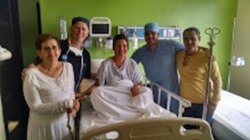 We owe our success to the support of our local community, so it only makes sense for us to give back by offering our services to local residents in need of surgery.
Newport Beach, CA. (PRWEB) September 07, 2016
Pacific Center for Plastic Surgery (PCPS), a state-of-the-art plastic surgery practice located in Newport Beach, CA, is proud to announce the launch of a new annual program, Reshaping Lives CA, in partnership with Plasticos Foundation and other local agencies. This critical mission is targeted to improve the lives of patients living in California who, for a variety of reasons, are unable to receive life-changing operations. The free reconstructive surgery will be performed by Dr. Larry Nichter and Dr. Jed Horowitz, world-class surgeons and founders of PCPS.
For more information about the program, visit: http://www.thepacificcenter.com/ReshapingLivesCA
The philanthropic arm of PCPS, Plasticos Foundation, was founded by Dr. Nichter in 1999 and is a nonprofit organization that sends volunteer medical teams abroad to perform life-changing reconstructive surgeries free of charge for underserved individuals who suffer from traumatic injuries and correctable deformities. This year Dr. Nichter and Dr. Horowitz (President and Vice President of Plasticos Foundation, respectively) are launching Reshaping Lives CA, a joint effort between PCPS and Plasticos that will provide reconstructive surgery to select California patients, free of charge.
Asgar Amin, Executive Director of the Pacific Center for Plastic surgery, is committed to the humanitarian goals of Reshaping Lives CA and is optimistic about how PCPS surgeons can positively impact the lives of these patients
"After decades of providing surgical services to those less fortunate in underdeveloped countries outside of the U.S., the Plasticos Foundation is adding a local initiative to assist those who need help within our own community. I am very excited to be a part of this movement, to offer inaccessible medical solutions, and to make a positive impact in the lives of those in need throughout California."
The launch of Reshaping Lives CA will take place this October, Breast Cancer Awareness Month, during which PCPS surgeons will perform free reconstructive surgery for women residing locally. Patients who wish to be considered for Reshaping Lives CA are asked to contact Plasticos Foundation Executive Director Susan Williams at susan.williams@plasticosfoundation.org or visit http://www.thepacificcenter.com/ReshapingLivesCA for more information.
Help spread the word on social media by using the hashtag #ReshapingLivesCA.
Contact
Asgar Amin, Executive Director
http://www.pacificcenterplasticsurgery.com/
949 720 3888
asgar(at)imagedr.com
About Pacific Center for Plastic Surgery
Pacific Center for Plastic Surgery is a dedicated and highly acclaimed plastic surgery practice with a world-class reputation for helping patients achieve their desired aesthetic goals. Dr. Nichter and Dr. Horowitz are award-winning surgeons with multiple board-certifications and 50+ years of collective experience in the field of plastic surgery. PCPS's high rate of patient referrals reflects the skill of their medical team and the quality of care at their office. At their state-of-the-art facilities, the patient-centric practice offers a full range of cosmetic procedures, as well as an extensive offering of the latest non-surgical cosmetic treatments at their onsite medical spa, BioSpa.