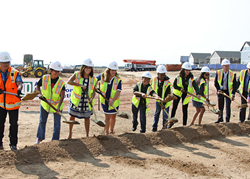 Construction of the project is on a fast-track schedule to complete by next summer, allowing the school to open in August 2017.
Denver, Colorado (PRWEB) September 08, 2016
Adolfson & Peterson Construction (AP) and members of the local community proudly celebrated the beginning of a new school located in Green Valley Ranch, Colorado. The Denver Public Schools new facility underway, currently referred to as Far Northeast Campus #28, will serve 950 students. Team members include MOA Architecture, JVA Consulting Engineers, Design Concepts, Kitchen Tech, Fortis Structural, Envision Mechanical Engineers and SSG MEP.
With areas including music and art classrooms, science labs, gymnasium and a kitchen and cafeteria, this two-story building will support learning from early childhood development through 8th grade. The 124,000-sf school will provide a single location for education to parents with multiple kids. The 13-acre site will bring added value to the community including a multi-purpose field, multiple play structures, painted game areas, multiple shelters and picnic tables, a baseball field, four basketball courts, three parking lots and a school garden.
The school design will support two separate school programs and administrations, and though some community spaces will be shared, the separate school programs will be able to maintain their individual identities. MOA Architecture's design of brightly colored metal panel elements make the building playful, inviting, and an exciting place to visit and learn. Metal panels highlight community areas, such as the library, while wing walls, highlighted by a contrasting brick color, will define entrances to visitors. Colors from the exterior carry into the interior of the building and provide a wayfinding system for the two programs sharing the facility.
"These projects are massive and they take a lot to get done," said David Suppes, the district's Chief Operating Officer, who continued on to thank the design team as well as Colorado voters for the local community support. AP is supporting local subcontractors by committing to 30% use of MWBE. Construction of the project is on a fast-track schedule to complete by next summer, allowing the school to open in August 2017.
About AP
Adolfson & Peterson Construction is a U.S.-based, privately held firm that is consistently ranked among the top 50 construction managers and general contractors in the nation. Founded in 1946, the company has built longstanding commitments to the regions in which it operates and is known nationally for its innovative and collaborative approaches within the building industry. Adolfson & Peterson Construction serves the education, multifamily, healthcare, commercial, municipal and senior living market segments from its offices in Charlotte, Dallas, Denver, Minneapolis and Phoenix. For more information, visit http://www.a-p.com and follow us on Facebook, LinkedIn and Twitter.