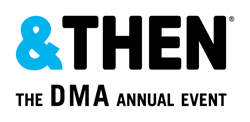 Consumers see the benefit of curated content and given the explosion of data, we are on the eve of extraordinary marketing innovation.
(PRWEB) September 07, 2016
Recognizing the profound changes that data and technology are bringing on a daily basis to the way consumers live and businesses thrive, DMA is launching an unprecedented program at its live global marketing and advertising conference, &THEN, October 16-18 in Los Angeles at the L.A. Live complex. Named "The 302 Code" this program is bringing 30 of the most prominent disruptors and leaders to engage in a series of high-level conversations on the state of data, media, technology and business and the next future shifts impacting consumers and marketing.
"As digital media celebrates its 20th anniversary and programmatic media buying celebrates its 10th anniversary, now is the moment in time for data and marketing game changers to gather and start an ongoing conversation about the potential for data as the next era of disruption emerges," said Andy Russell, Founder and CEO of Inside Hook and Trigger Media and a member of the DMA Board of Directors. "Moreover, DMA is THE natural convener of this conversation as the association that represents the entire data and marketing ecosystem and that has led the dynamic marketing industry from innovation to innovation for nearly a century."
Expanding on these data, digital, media and programmatic milestones, Russell noted that when Double Click was founded in 1996 as an ad serving company, it soon came under fire for the creation and use of "cookies", or web browsing data collection. "What was once investigated and considered intrusive is now seen by consumers as data-driven insight that ensures they receive the content and marketing they want and not what they don't," said Russell. "Consumers see the benefit of curated content and given the explosion of data, we are on the eve of extraordinary marketing innovation."
A total of ten conversations will take place during The 302 Code sessions featuring such data, technology, media and marketing innovators as Joe Zawadzki of MediaMath, Shelley Zalis of The Girls Lounge, Matt Britton of MRY and author of YouthNation, Howard Stein of Facebook, Alisa Bergman of Warner Bros. and DMA's Board of Directors, Jeremy Kroll of K2 Intelligence and Melisa Goidel of Refinery 29, and two dozen others. The 302 Code sessions are:
-A Brief History of Digital Marketing – The Revolution of Big Data
-The Science of Creativity
-Why Do Companies Need Women in the C-Suite?
-Connecting with the Consumer in an Age of Skepticism
-Engaging Millenials
-Data in Media
-Decoding Celebrity Influence
-Emotional Storytelling through Branded Entertainment
-Cybersecurity, Siloing, Numbness and Enterprise Risk
-Disruption and Innovation in Publishing – What it Means for Marketers
"302 Code is a temporary redirect of a web page, but today's marketers know that temporary redirection often becomes a permanent state," said Paul McDonnough, DMA's Vice President of Conferences and Events. "The conversations that DMA is launching with 302 Code will provide marketers with a preview of the next dramatic disruptions and innovations and the insights to inform their strategies and business and technology investments to accelerate their market position."
Deeper dives into some of the 302 Code conversations:
Why Do Companies Need Women in The C-Suite (Sunday, Oct. 16)
Few topics have dominated advertising and marketing headlines with as much intensity as the disparities between male and female employees in the industry, and discrimination and sexual harassment in the marketing and advertising workplace. DMA advocates for full equality for all and beyond that, calls on the industry to go beyond and champion the value that women bring at every level of the enterprise and especially the coveted C-Suite. To advance this discussion, Shelley Zalis (Founder & CEO, The Girls' Lounge) will host a fireside chat with Rosie Rios (Treasurer of the United States) about the role of women in business and how female leadership can move companies ahead of their competition.
Decoding Celebrity Influence (Monday, Oct. 17)
If the President of the United States had to reach the public with an important and urgent message, a very compelling argument could be made that leveraging celebrities like Kim Kardashian and Taylor Swift would achieve faster and more significant results than talking to major media companies. Today, the individual – and specifically celebrity individuals – carry the most influence and their astuteness in leveraging data to reach their fans and audiences is stunningly astute. The 302 Code convenes leading talent agents from Talent Resources, Maverick and Beecher Media Group to uncode how marketers and strategy and creative agencies can unpack celebrity and influencer data analytics to to generate instant and targeted reach and impact.
Disruption & Innovation in Publishing (Tuesday, Oct. 18th)
Publishing has faced some of the most disruptive existential challenges of any industry in the past 20 years, and it continues at a dramatic pace. A breed of innovative publishers are re-inventing the industry by finding ways to use new technology and digital platforms to engage both consumers and business partners to deliver the value that both want. The traditional publishing industry financial models are being turned upside down. The 302 Code convenes leaders from media companies Refinery29, POPSUGAR, Business Insider and InsideHook to examine the opportunities these changes present to marketers and what's next in publishing.
The full lineup of 302 Code programming can be found at the 302 Code page on the &THEN website.
About &THEN, The DMA Annual Event:
&THEN, the reinvented DMA annual event, is the largest global event that unites the marketing community – the people who think, plan and do what it takes to succeed. &THEN takes place in Los Angeles, CA at the L.A. Live complex from October 16-18, 2016.
About DMA (http://www.thedma.org): Founded in 1917, DMA is the community that champions deeper consumer engagement and business value through the innovative and responsible use of data-driven marketing. DMA's membership is made up of today's leading tech and data innovators, brand marketers, agencies, service providers and media companies. By representing the entire marketing ecosystem – from demand side to supply side – DMA is uniquely positioned to bring win/win solutions to the market and ensure that innovative and disruptive marketing technology and techniques can be quickly applied for ROI.
DMA advances the data-driven marketing industry and serves its members through four principal pillars of leadership: advocating for marketers' ability to responsibly gather and refine detailed data; innovating to bring solutions forward for marketers' most vexing challenges; educating today's marketers to grow and lead marketing organizations in the ever-increasing omnichannel world; and connecting industry participants to stay current, learn best practices and gain access to emerging solutions through &THEN – the largest global event for data-driven marketing – and DMA's portfolio of other live events.