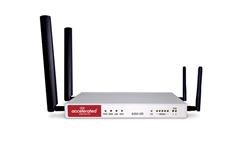 The 6350-SR with its high performance features and Cat 6 modem supports the highest LTE Advanced speeds available today and is positioned to make a major splash in the market
Las Vegas, NV (PRWEB) September 07, 2016
Accelerated announced at CTIA Super Mobility its latest addition to the 6300 Series LTE routers, the 6350-SR LTE Router. The 6350-SR is a high performance VPN and router appliance with dynamically configurable Ethernet ports, multiple WAN options, firewall and optional WiFi. The 6350-SR provides the ability to add multiple failover options for a best-in-class Business Continuity platform. Additionally, the 6350-SR can leverage disparate WAN connections to offer load balancing which provides the ability to aggregate multiple connections together. The 6350-SR also uses Accelerated's new Plug-In LTE Modem with its unique snap in ability. The new Plug-In LTE Modem can be interchanged with different versions to provide various speeds including a Cat 6 cellular modem option. Cat 6 provides the highest speeds commercially available using LTE Advanced with Carrier aggregation and supports the most global LTE bands available. On the local network side both Ethernet and WiFi connectivity options are available. As with all Accelerated products the award-winning Accelerated View™ cloud based management system provides a complete enterprise solution to effectively manage, configure, alert and report on all deployed 6350-SR devices.
Tom Butts, CEO, said: "Our customers know that being connected is everything in today's data-driven economy. Eliminating downtime is essential to maximize productivity, support critical business applications, and avoid outages and disruptions that can impact sales, customer service, brand reputation and compliance. The 6350-SR maximizes this connectivity story for businesses and brings a new price/performance leader to this space".
Rick Gretsch, VP Product Management, said "The 6350-SR is a culmination of over a year of design and engineering work based on the input from our customers. This new device brings together some recent enhancements we've delivered on our other products including: Load balancing, Failover, Smart Connectivity Monitoring™, Carrier Smart Select™, VLANs and VRRP. The 6350-SR really showcases Accelerated's skill and investment in Carrier based technology and positions Accelerated to be a major player in the years to come with Wireless WAN".
The 6350-SR is a compact, affordable and high-performance device with a Plug-In Carrier Certified modem. "The 6350-SR with its high performance features and Cat 6 modem supports the highest LTE Advanced speeds available today and is positioned to make a major splash in the market. We are excited to deliver such a high performance router to our Resellers and customers at a price point that will shake up the market." said Jason Dorough, VP of Sales.
Dorough is leading a team of Accelerated employees showcasing the 6350-SR and its award winning 6300-CX products at CTIA Super Mobility this week. "Come see the 6350-SR in action at Booth 5335."
General Availability of the 6350-SR is planned for Q4, 2016.