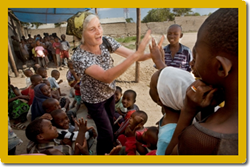 Tanzania, Africa (PRWEB) September 07, 2016
Lynn Gissing, founder of Light in Africa, a NGO (Non-Government Organization) children's home that provides fundamental care for vulnerable children in the Kilimanjaro and Manyara regions of Africa, will be embarking on an epic journey across central Tanzania, the largest country in East Africa, traveling 3400 klm, starting on September 23, 2016. Gissing, also known as Mama Lynn will retrace the steps of the Welshman Henry Morton Stanley, who traveled this dangerous ivory and slave route in search of the British Explorer Dr. David Livingstone. Dr. Livingstone set out in August of 1865 on a planned two-year expedition to find the source of the Nile River – he also wanted to help eradicate the slave trade, which was devastating Africa's people; however, six years later, Stanley lead an expedition into the African wilderness, finding Livingstone living among the villagers in Ujiji and uttered those famous words, "Dr. Livingstone, I presume?" Mama Lynn will retrace these steps to raise awareness and funding for Light in Africa Children's Homes.
After leaving Light in Africa Children's Homes - based at Tudor Village, Boma n'gombe, Kilimanjaro Region, Mama Lynn will travel three days to the starting point at Bagamoya. The travel route will take her to Bagamoyo to Morogoro, then onto Dodoma, Singida, Tabora, Kigoma, and finally the rough road to Ujijii on the shores of Lake Tanganyika. Visits to interesting places and museums of these explorations will be a part of the long journey. Ujiji is drenched in the history and sadness of slavery and has many interesting sites and artifacts which tell its poignant tale. The trip will take in some 3400 klm of Tanzanian countryside and on completion, highlight the needs of Light in Africa and encourage followers to support Mama Lynn in her work.
What makes this trip interesting is that Stanley's expedition took 8 months to complete on foot, Mama Lynn is hoping to be able to complete the same journey in 6 weeks, travelling by Tuk Tuk (Bajaji), a three wheeled motorized vehicle. Her trip will encompass long stretches of challenging dirt roads, road work diversions and areas where no gasoline/petrol is available.
Travelling in the TukTuk with Mama Lynn will be her constant companion 'Lassie' a mixed breed rescued dog. In the service vehicle will be staff members. Those who would like to sponsor her trip and travel with her are welcome. For those who are interested in the history of Africa and its impact on the world at large, this should be a trip of a lifetime. Details can be obtained from Mama Lynn via email at mamalynn228(at)gmail(dot)com
Estimated time of arrival in Ujiji is between October 17th- 23rd with arrival back at Light in Africa on November 3rd.
Mama Lynn will be keeping a journal/blog of her expedition; those who wish to follow Mama Lynn can do so at: http://www.lightinafrica.org and on You Tube https://www.youtube.com/channel/UCiYh9HIFSug_nErU5L-UMag and http://www.youtube.com/channel/UCf10RiaqA9sow7d8VGq6EgQ.
For more information and donation opportunities to Light in Africa, please visit http://www.lightinafrica.org
Tanzania is home to roughly 2.5 million orphaned children. Over the last sixteen years, Light in Africa Children's Home has provided basic fundamental care for some of the most vulnerable of children in the area. Welcoming the children into their homes. Children with severe disabilities, 53 children carrying the HIV/+ virus which relates to 'high' medical treatment cost's each month which is escalating, as well as physically and mentally abused children. Mama Lynn has written a book called A LIGHT IN AFRICA which is available off her website or through Amazon which details the success and challenges over the time she has spent in Africa.
For media inquiries and interviews, please contact Kelly Bennett of Bennett Unlimited PR (949) 463-6383 or kelly(at)bpunlimited(dot)com.
More information about Light in Africa visit http://www.lightinafrica.org. Follow Light in Africa on Facebook at: http://www.facebook.com/thelightinafrica, and http://www.facebook.com/mamalynngissing.