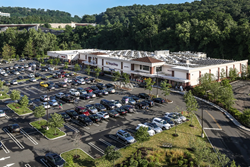 Harrison, NY (PRWEB) September 07, 2016
RM Friedland, a commercial real estate services firm serving the Tri-State area with a particular focus on Westchester, the Bronx, Fairfield, Rockland and Putnam Counties, is proud to announce that the company has been named the exclusive leasing broker for two leading retail destinations in Westchester County: Premier Plaza in Tarrytown and The Waterfront at Port Chester. In addition, the company's retail division is now representing the landlord of the former Conway Department Store located on the Upper West Side of the Bronx.
Premier Plaza - 600 Tarrytown Road, Tarrytown
Premier Plaza is an 85,685-square-foot retail development with tenants including Stop and Shop, GoHealth Urgent Care, Qdoba Mexican Restaurant and Sprint, as well as the 150-room Sheraton Tarrytown Hotel. The site currently has 16,990 square feet available for lease, including a restaurant space. In addition, the property offers prospective tenants a 3,600-square-foot pad site with ability to add a drive-thru, as well as a 48,000-square-foot multi-story building.
The retail plaza is located off of the New York State Thruway and Route 119 in Tarrytown, N.Y. The team representing Premier Plaza includes Colleen T. Quinn, managing director of RM Friedland's retail division, and brokers Mia Abdou and Frank Savastano.
"With more than 1,800 hotel rooms and 2 million square feet of office space within a two mile radius, Premier Plaza is the ultimate destination for retailers looking to move into a suburban area with tremendous access to visitors and commuters," said Quinn.
The Waterfront at Port Chester – 27 Waterfront Place, Port Chester
The Waterfront at Port Chester is a 358,619-square-foot shopping, dining and entertainment hot spot located along the Byram River Waterfront in Port Chester's bustling downtown. The area is known for popular restaurants like Tarry Lodge, Bar Taco, Q, Rye House and Acuario and showcases Westchester's favorite live music performance venue, the Capitol Theatre.
The two-level property is anchored by Super Stop and Shop, Costco, Bed Bath & Beyond, Marshalls, Michaels and Loews Cinema (14 screens). Accessible from I-95, I-287 and Boston Post Road, and adjacent to the Metro North train station, The Waterfront at Port Chester is convenient to residents and commuters throughout Westchester and Fairfield County. RM Friedland's Beth White, Robin Herko and David Scotto make up the team representing The Waterfront at Port Chester. More than 14,000 square feet is currently available for lease at the property.
5622 Broadway, the Bronx
Located less than a quarter mile from the Major Deegan Expressway (I-87), the former Conway Department Store located at 5622 Broadway in the Bronx totals more than 50,000 square feet of leasable retail space. This unique building features 20,000 square feet of space with 70' of frontage facing Broadway, which includes drive-in delivery access on W. 233 Street. An additional 10,000 square feet of second floor space is accessible through a separate elevator entrance. The site also features 35,000 square feet of additional retail space facing W. 233 Street.
The property is in close proximity to thriving Bronx retail destinations Broadway Plaza and River Plaza. This vibrant corridor in Kingsbridge and Riverdale connects the retail options both north and south of the area, serving over 136,000 people in a one mile radius. The site is steps away from the 1 train, which has over 2.6 million riders a year. The landlord is being represented by RM Friedland's Mia Abdou.
"The addition of these properties to our client roster further positions RM Friedland as a force in the retail real estate arena in the New York Metro area," said Sarah Jones-Maturo, president and CEO of RM Friedland. "Our team is dedicated to bringing quality tenants to these stellar locations that will best serve the residents and visitors of these thriving communities."
About RM Friedland:
RM Friedland is a commercial real estate services company serving the Tri-State Metropolitan Area. The company relies on a team of talented veteran and junior brokers who represent all asset classes with a focus on industrial, retail and office. Its brokers are supported by robust databases and a capable staff that is dedicated to the success of each broker. RM Friedland is located at 440 Mamaroneck Avenue in Harrison, New York and can be reached at (914) 968-8500 or by visiting rmfriedland.com