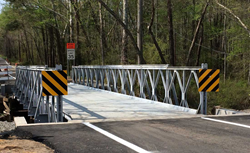 "We recognize the need for bridges to be part of states' emergency plans and are prepared to fulfill that need."
ELKRIDGE, MD (PRWEB) September 12, 2016
Mabey Inc., headquartered near Baltimore, Maryland, has expanded its capabilities beyond bridge rentals for temporary or emergency work and has opened a national sales division in the United States. Mabey has hired Charlie Benedict to head up Mabey's bridge sales in North America. Charlie has vast experience with new business development and brings with him over 30 years of expertise to assist Mabey to penetrate the bridging market for new sales.
According to a 2015 report, American Road & Transportation Builders Association (ARTBA) reported that nearly 10 percent of the bridges in the U.S. are in need of repair or replacement. Mabey has positioned itself to be a major supplier of bridge stock for future infrastructure development needs.
Mabey is a global company supporting infrastructure projects in 140 countries, with offices in the United States, the U.K., Australia and New Zealand. Here in the U.S., Mabey has developed strong relationships with contractors and DOTs, supplying almost 1,000 bridges across the country. Mabey has been renting its fleet of bridges in the United States for these applications for over 25 years and has evolved to include the sale of all models in the Mabey product line, including bridges for highway, utility, pedestrian, and rapid build projects.
"Infrastructure development in the U.S. is in full swing now that federal funding has been made available and we recognize the need for bridges to be part of state DOT's inventory for emergency use as well as general contractors and utility work. Mabey is prepared to fulfill that need with our bridging products."
— Andy Boorman, Mabey General Manager
Mabey bridges are ideal for emergency use after natural disasters have destroyed or made existing bridges unsafe. They are also used to access construction sites, for pedestrian use, utilities and for manufacturing plants that need stable platforms to support conveyor belts. Mabey bridges are modular and therefore easily transported and can be quickly installed — sometimes in just days — to reconnect communities or keep traffic flowing, reducing the need for lengthy detours. Contractors and DOTs regularly stock Mabey bridges in their own fleet for emergency situations or as permanent solutions to infrastructure projects.
To find out more about Mabey bridges and projects, visit http://www.mabey.com/sales.
###
About Us:
Mabey is a leading bridge and engineering services company in the U.S. that combines engineering excellence with expert design and service for the construction industry to deliver safer, faster and more efficient infrastructure projects to the communities we serve. Our engineered capabilities include the design of temporary and permanent bridges, structural propping and jacking, trench shoring, and temporary roadways. We also provide on-site technical assistance, hands-on safety training, and roadway installation services. Mabey has been a family-owned business for nearly 100 years, employs more than 800 people and has supported infrastructure in more than 140 countries around the world to create new bridges, buildings, roads, railways and utilities.