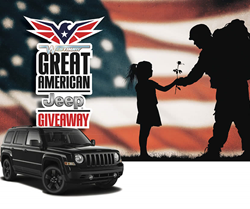 Our dealership has a long history of support for our local veterans and veterans groups.
Westbury, NY (PRWEB) September 08, 2016
Westbury Jeep Chrysler Dodge Ram will be paying back one deserving veteran of the U.S. Armed Forces for his or her service with a brand new 2016 Jeep Patriot 4x4 at the Salute to Heroes Concert at the Pennysaver Amphitheater in Farmingville on September 10. The award presentation will be the culmination of Westbury's Great American Jeep Giveaway contest.
"Our dealership has a long history of support for our local veterans and veterans groups," said Keith Donnelly, General Manager of Westbury Jeep and VIP Auto Group Partner. "Now more than ever, we want to thank and recognize the brave people who have sacrificed for our freedom. The purpose of our unique contest is not only to reward deserving vets for their service, but also to bring greater public attention to vets in need."
Community members submitted nominations of New York State veterans in need throughout the summer; nominations are now closed. A special panel comprised of dealership principals, prominent local business owners and media figures is now reviewing the nominations and will select 12 finalists. All finalists will be Westbury Jeep's guests at the concert, which features Big & Rich, Jana Kramer, Kellie Pickler and other country music stars. One finalist will be selected by the panel to win the new Jeep; the winner will be announced during the concert.
"We want to thank all those who took the time to nominate a neighbor, co-worker, relative or friend who has served in our Armed Forces and is in need," Mr. Donnelly said. "And we hope that everyone in the community will join us at the Salute to Heroes Concert on September 10 to express their thanks to all of our nominees for their service."