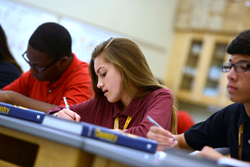 "We all define success in different ways—there's no one-size-fits-all definition," MHS Senior Director of Graduate Program for Success Tanya Barton said.
HERSHEY, Pa. (PRWEB) September 07, 2016
To help students overcome uncertainty and persistently navigate each step on their paths to success, Milton Hershey School administrators recently developed the Graduate Program for Success (GPS) Division to enhance the school's individualized support offerings for current students who are entering middle school and high school, and graduates who are entering college, technical programs, the workforce, or the military.
"The idea of persistence is extremely important. It's getting from year one, to year two, to year three," said MHS Senior Director of Graduate Program for Success Tanya Barton. "We felt we needed to invest the actual time, the resources and the manpower to provide [this kind] of transition support."
MHS career counselors support eighth-graders throughout their transition to high school by answering questions about classes, planning a job shadow program, and offering academic mini-courses on topics like study skills, test-taking strategies, and more. In high school, career counselors and teachers work together to guide students as they hone their strengths, write resumes, apply to colleges or interview for jobs, and learn about in-demand career fields.
Career counselors identify early warning indicators that might be present for students before they graduate. The GPS Division uses these indicators, whether emotional, cultural, academic, financial or social, to develop individualized support for all MHS alumni.
"We don't want to only help students transition from MHS to their first year," Barton said. "Kids change their plans, whether it's switching their major, transferring schools or joining the military. We need to be there for every transition, not just the initial one."
Following graduation, new graduates are paired with MHS transition specialists who serve as their postgraduation support system. Transition specialists follow a tiering model to determine the level of support a student needs, which may include monthly text messages, personal phone calls, weekly check-ins or on-campus visits. They also answer financial aid questions and help graduates overcome difficulties without feeling alone.
To provide comprehensive support throughout each transition, the GPS Division is strengthening the connection between MHS and select colleges, universities and technical schools. Transition specialists meet with school representatives and form direct lines of communication about collaborative ways to support MHS graduates.
"We all define success in different ways—there's no one-size-fits-all definition," Barton said. "We want to see our students be able to have a career, a family, be able to support themselves, and ultimately be happy. That's how we measure success in the GPS Division."
More information about Milton Hershey School's GPS Division and support services for current students and graduates can be found at mhskids.org.
# # #
ABOUT MILTON HERSHEY SCHOOL
Milton Hershey School® is one of the world's best private schools, offering a top-notch education and positive home life to children in pre-kindergarten through 12th grade from families of lower income at no charge.