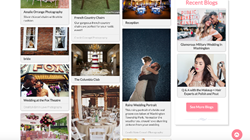 Lake Mary, Florida (PRWEB) September 08, 2016
Everyone knows Millennials love photos. With this knowledge, Perfect Wedding Guide has recently launched a new photo feed feature to help drive more customers to existing (and new) vendor profiles. The photo feed showcases the highest quality photos from online vendor profiles, Head Over Heels Wedding Blog, and photo galleries on the homepage. This is just the beginning of future site updates.
But what makes this new feature important? The photo feed showcases wedding professionals best photo content from their profile and essentially becomes their content marketer.
Here is what wedding professionals need to know in order to be considered for the photo feed:
1. They MUST be a paid advertiser with Perfect Wedding Guide;
2. They MUST have recent, high quality photos
Perfect Wedding Guide has a dedicated team who curates the photos regularly. Their job is to separate the wheat from the chaff. Therefore, it is good for wedding professionals to understand the criteria so that they get their "free ads". (Specific criteria details can be found on New Photo Feeds Feature.)
This is a great opportunity for Perfect Wedding Guide's paid advertisers! This opportunity is something that all advertisers should take full advantage of.
About Perfect Wedding Guide:
For over 25 years, Perfect Wedding Guide has been dedicated to creating innovative wedding planning solutions for brides of all budgets. Our company offers couples fun, useful, and free products to help make wedding planning less of a chore and more of a treat. Our local guides and wedding shows are available in select markets, showcasing some of country¹s top wedding vendors who work right in the bride's backyard. Our national website, Perfect Wedding Guide, is full of fresh planning tips and wedding ideas, wedding news, an extensive photo gallery for inspiration, easy-to-use wedding planning tools, as well as a wedding blog community hosted by our national wedding planning expert, Susan Southerland.