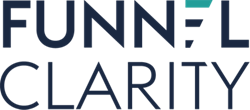 "All of our offerings are built around the sales funnel and our mission is to help our clients apply scientifically proven methods to gain clarity about buyer behavior at each stage." - Tom Snyder, Founder
ARLINGTON, Va. (PRWEB) September 08, 2016
Sales training provider VorsightBP announced today that it has changed its name to Funnel Clarity in an effort to highlight the company's mission and offerings. "The time has come for a new corporate identity that is easier to understand and focused on the value we provide clients," said founder Tom Snyder. "We needed a more recognizable brand to give agency to our role as a thought leader in sales performance. All of our offerings are built around the sales funnel and our mission is to help our clients apply scientifically proven methods to gain clarity about buyer behavior at each stage."
The science behind Funnel Clarity's offerings is, according to Snyder, the key differentiator in an industry with low barriers to entry. "We value methods that are objective, measurable and enduring," said Snyder, and the three capabilities he says set Funnel Clarity apart are:

Content sourced from a large body of statistically significant research.
A verified process to translate newly learned skills into sales habits.
A flexible approach to ensuring behavior change and long-term impact.
"Funnel Clarity is one of just a few companies that have legitimate content derived from years of scientific inquiry," said company President Jill Ulvestad. "Every one of our offerings was developed from rigorous study of real sellers working with real customers and creating real value. At Funnel Clarity we care deeply about improving both the abilities of sales people and the reputation of the profession of sales." Those qualities are the reason, says Ulvestad, that the company has been awarded the Sales Training Provider of the Year by the membership of the American Association of Inside Sales Professionals for the last seven years in a row.
The name change is also intended to reduce confusion with Funnel Clarity's former sister company Vorsight, an outsourced appointment setting business. "Vorsight or VorsightBP? Lead generation or sales training? We get it—it's confusing," said Chief Strategy Officer Jacquelyn Holden. "And confusion is the last thing we want. In fact, it's the last thing we do. We like to deal strictly with the tangible and the measurable; our focus is clarity."
About Funnel Clarity
Funnel Clarity is a professional services, consulting and training firm that focuses on turning sales people into enthusiastic and efficient prospectors, improving every seller's ability to help customers make better buying decisions, and converting sales managers into effective force multipliers. Go to http://www.funnelclarity.com for helpful content on the science of prospecting, lead qualification, selling and sales management.