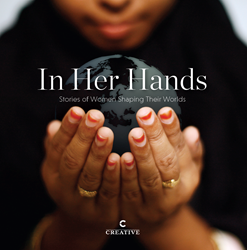 Often the efforts of many women go unrecognized, despite the fact that so many people have benefited from their achievements. It is our hope that this inspires others to take action.
Washington, D.C. (PRWEB) September 08, 2016
Fourteen women from Syria to Afghanistan and Nigeria to El Salvador who have made profound contributions to promote positive change in their communities are profiled in a new book called "In Her Hands: Stories of Women Shaping Their Worlds," Creative Associates International announced today.
The release of the book and an awards ceremony will be held on Sept. 13 at the Ronald Regan Building in Washington, D.C. An online version of the Creative-published book and short videos are available now on a special website.
Launched by Creative's Co-Founder and CEO Charito Kruvant, the initiative seeks to identify and honor women around the world for their vision, energy and results related to the organization's mission. Six of the 14 honorees will be in Washington for the book release and awards ceremony.
"Today, more girls have gained access to education, vulnerable groups have found a voice and neighbors have joined together to build peace," says Kruvant, herself a pioneer in the field of locally driven development. "Often the efforts of many women go unrecognized, despite the fact that so many people have benefited from their achievements. It is our hope that this inspires others to take action."
Hailing from Afghanistan, Cambodia, Egypt, El Salvador, Honduras, India, Jordan, Morocco, Nigeria, Pakistan, Syria, Tanzania, Yemen and Zambia, many of the honorees have worked through conflict, overcome significant obstacles and broken gender barriers in pursuit of their visions to improve their communities.
But, in their own words, these women are undeterred.
"I am not going to give up because I know at least in my little way, in my little corner...I could make an impact somewhere, somehow," says Nigerian honoree Rabia Eshak, whose leadership in education has helped thousands of children gain access to quality instruction and return to school, in a country that has highest number of out-of-school children in Africa.
In addition to Eshak, the list of honorees includes: an Afghan woman preparing other women with workforce skills; a Salvadoran mayor fighting to end violence and bring opportunity to her city's vulnerable youth; and a Syrian student-turned-activist using radio to bring critical news to communities in conflict, among others.
Each honoree has been engaged in a Creative-implemented project, whether as a local staff member, grantee, implementing partner or beneficiary.
Collectively, the 14 honorees have changed tens of thousands of lives as they have transformed education systems, helped to stem crime and violence, expand opportunities for women and youth, and amplified calls for peace in conflict-plagued areas.
To learn more about this initiative and the 14 honorees, please visit: http://inspirational.creativeassociatesinternational.com/
About Creative Associates International
Creative Associates International works with underserved communities by sharing expertise and experience in education, elections, economic growth, governance and transitions from conflict to peace. (http://www.CreativeAssociatesInternational.com)
Based in Washington, D.C., Creative has active projects in more than 25 countries. Since 1977, it has worked in nearly 90 countries and on almost every continent. Recognized for its ability to work rapidly, flexibly and effectively in conflict-affected environments, Creative is committed to generating long-term sustainable solutions to complex development problems.
Started by four enterprising women with diverse backgrounds, Creative has grown to become one of the leaders among the U.S. private sector implementers of global development projects. Creative is minority owned and operated.