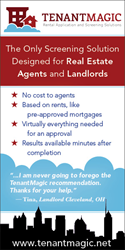 The TenantMagic Team is eager to see its services expand in Atlanta
Atlanta, GA (PRWEB) September 07, 2016
TenantMagic, an online rental application and comprehensive tenant screening report service, is now available in Atlanta, Georgia. The screening report includes an all-inclusive credit, criminal, eviction and sex offender report that is accessible to agents, property managers and owners.
"The TenantMagic Team is eager to see its services expand in Atlanta," said Jay Apple, co-founder of TenantMagic. "We are proud of the positive feedback we have gotten from agents all over the country and are thankful for the nationwide support that we have garnered."
The TenantMagic online service allows agents to provide rent-based and portable applications to housing applicants, features that cannot be found elsewhere. The state-of-the-art program sends reminders to applicants who have not fully completed their applications and alerts agents when applications are finished. Additionally, TenantMagic's own in-house customer service team handles any troubleshooting that clients require through the application process.
Current TenantMagic users have publicly praised the service's quality and ease of use. "I love knowing that applicants are qualified before spending any time with them. With TenantMagic, I don't have to deal with paper applications and collecting application fees," said Adam B., an agent from New Jersey.
Registration for TenantMagic is free to property managers, agents and owners. Applicants pay a $35 registration fee upon use. Visit http://www.tenantmagic.net, contact Jay Apple at japple(at)tenantmagic(dot)net or call 877.462.0960 x88 to get started.