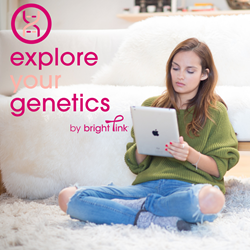 We're working to help women feel empowered to make informed decisions about breast and ovarian cancer genetic testing.
Chicago, IL (PRWEB) September 08, 2016
Bright Pink, a national breast and ovarian health non-profit organization, is proud to announce the launch of a new digital property, ExploreYourGenetics.org, devoted to providing the first-ever "one stop shop" for information on breast and ovarian cancer genetic testing, helping to demystify the process and empower women to take action.
For many women, navigating the waters of hereditary cancer genetic testing can be scary, challenging and full of uncertainty, causing many who should consider genetic testing to not even start the process. With this novel website, ExploreYourGenetics.org fills a void, housing critical comprehensive, easy-to-consume information in one digital hub ensuring that all women – regardless of their family health history- feel informed and empowered to make a thoughtful, supported decision when it comes to genetic testing
"Today, 90% of individuals in the US who carry a BRCA gene mutation don't know it," said Bright Pink Founder and CEO, Lindsay Avner, speaking of the most common gene mutation associated with breast and ovarian cancer. "And that number doesn't even account for the individuals who unknowingly carry one of a number of additional genetic mutations that can increase risk for these diseases. We are hopeful that through this new resource, thousands of women will be equipped with the knowledge, resources and support necessary to help them take action. This website will help women overcome common barriers to genetic testing by offering digestible content that addresses practical concerns including cost, access to and logistics of testing, legalities, support resources, and more. We're working to help women feel empowered to make informed decisions about genetic testing."
Highlights of the site include:

Overview on the connection between genetics and breast and ovarian cancer
Practical and easy-to-understand information about the different types of genetic tests and labs that offer them, helping young women understand the difference between the various options available to them
Tools for navigating insurance and other financial barriers
Information on how to access quality professional advice from genetic counselors and physicians
Resources to help inform decision making for all women at all stages in the process—from understanding the implications of a positive test result, to discussing it with family members
Video testimonials, demos, personal stories from real women
Access to Bright Pink's support programs including PinkPal (one-on-one support) and Outreach groups (in 23 communities nationwide)
ExploreYourGenetics.org is the second digital product from Bright Pink, following the success of the NSGC-Approved and Webby Award-winning AssessYourRisk.org, which has had more than 300,000 completions since launching in February 2015.
Development of ExploreYourGenetics.org was concepted and spearheaded by Gregg Kaplan, Founder and former CEO of Redbox, and his wife, Lindsay Avner. The website was developed in memory of Gregg's late wife, Felicia, who passed away from breast cancer. Felicia only learned she was a BRCA1 mutation carrier after she was diagnosed with cancer, and sadly lost her 7-year battle with the disease in 2012. A genetic test could have saved her life.
About Bright Pink®
Bright Pink is a national non-profit focused on the prevention and early detection of breast and ovarian cancer in young women. The organization's mission is to save women's lives from breast and ovarian cancer by empowering them to live proactively at a young age. Bright Pink's innovative programs educate and equip young women to assess their risk for breast and ovarian cancer, reduce their risk, and detect these diseases at early, non life-threatening stages. Founded in 2007, Bright Pink strives to reach the 52 million women in the US between the ages of 18-45 with this life-saving education. Put Awareness In Action™ at BrightPink.org.