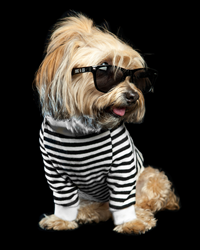 New York, NY (PRWEB) September 08, 2016
The "runway" will take on new meaning when dozens of dazzling dogs show off the latest canine fashions on Tuesday, September 13. Open to the public from 3 p.m. to 4 p.m., the runway show is taking place in front of Dog & Co. (Space #32) at TurnStyle, New York's newest and most unique underground shopping corridor, at Eighth Avenue between 57th and 58th Streets. The event will showcase the haute pet supply retailer's latest collections on models that include adoptable, celebrity and customer canines in a setting that pays homage to New York Fashion Week, complete with lights, cameras and pizzazz! Adding more fun to the festivities, Ellary's Greens at TurnStyle will be serving limited edition "Pup-sicles" (organic frozen treats) for the dogs participating in the fashion show.
"This is a really great event for anyone who loves dogs and fashion," points out Susan Fine, TurnStyle's CEO and developer. "We have the most creative retail down here and a canine couture event is a prime example of how to showcase products in ways that are entertaining and inventive."
Open to the public for free, visitors are encouraged to stop into TurnStyle's many coffee bars and eateries before and after the show, such as By Suzette, MeltKraft, Casa Toscana, Georgia's Bakery, Fika Espresso, Gastronomie, Bosie Patisserie and Yong Kang Street, among others. In addition, all of the shops in the corridor will stay open throughout the event, including Spectre & Co., Lush, Marc Tetro, Papyrus, Studio Manhattan, Vu Framework and Specs. Limited seating is being provided for Dog & Co.'s invited guests, only.
TurnStyle is New York City's leading lifestyle hub; an underground marketplace proving that there is an upside to down. Located within a completely renovated 325-foot-long passageway leading from 57th Street and Eighth Avenue to the subway platforms, TurnStyle has reimagined the subway experience by creating a Main Street-esque destination under Columbus Circle. With 39 local small businesses, nationally recognized brands and rotating pop-ups from designers, artisans and artists, TurnStyle brings choice, convenience and a modern, clean design to the 90,000+ daily commuters who frequent this Midtown Manhattan destination. From hats to flowers, dumplings to doughnuts, cell phone cases to sunglasses, and much more in between, TurnStyle brings a unique and accessible selection to change the commuting experience.