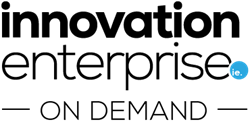 Access the minds of industry experts
(PRWEB) September 08, 2016
The idea of online corporate training has become significantly more appealing to organizations in recent years. The cost and time involved with an instructor coming into the office is prohibitive, and the flexibility enabled through a virtual learning environment is an obvious solution to the problem.
The Innovation Enterprise On Demand platform has long been home to some of the world's largest libraries of enterprise innovation content, with industry leading speakers delivering the latest ideas and business techniques to its members to ensure every tool is available to organizations confronting everyday challenges and they are best positioned for growth. The platform has now undergone a complete renovation, with a number of new features introduced to provide users with easier access to the presentations.
These new features include a redesigned video format, incorporating slides into the screen to make them more visible. Navigation capabilities have also been improved, with a better, faster search function that allows users to more easily discover the kind of insights relevant to them.
Innovation Enterprise On Demand has almost 12,000 presentations in its library, and adds 160 hours every month. These include speakers from the recent Sports Analytics Innovation Summit in San Francisco 2016, among them Director of Sport Science at Utah Jazz, Mark McKown, who discussed his personal experiences using data analytics to improve players' physical fitness at one of the leading basketball teams in the NBA. Dawn Scott, Director of Sport Performance & Fitness Coach for the US Soccer Women's National Team also describes how she used and integrated data into the programs of the US WNT for the 2012 Olympics and the 2015 World Cup win.
Innovation Enterprise On Demand Product Manager, Kirsty Donovan, said: "We've listened to our audience and redesigned the platform to ensure optimal user experience. The problems that businesses face today are incredibly complex, and the solutions often not easily uncovered, but this should ensure that members are left in the best possible position moving forward."
For content from more of our upcoming events, such as the Big Data Innovation Summit and the FP&A Innovation Summit, as well as many others, simply start you 7-day free trial here: https://ieondemand.com/
Innovation Enterprise Ltd, a division of Argyle Executive Forum, is a business-to-business media brand specializing in delivering the most innovative business solutions to executive-level decision makers. Innovation Enterprise produces a range on online and offline content, including, but not limited to, summits, online learning, webinars, and white papers, as well as offering other additional services such as lead generation and bespoke research.
Innovation Enterprise focuses on seven key channels - Finance, Supply Chain, Analytics, Big Data, Strategy, Digital, Innovation & Sports - to ensure that organizations are furnished with all the cutting-edge insights necessary to driving growth in the evolving business environment.