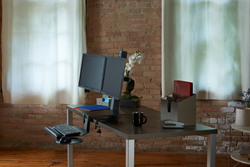 Weight loss, more energy and mobility are natural benefits associated with HealthPostures' ergonomics products.
Prior Lake MN (PRWEB) September 14, 2016
HealthPostures, national maker of standing desk designs, equipment and accessories, recently upgraded its TaskMate Go. The redesign is evidence that the company is committed to developing sleeker, more versatile desk for standing.
The redesign comes at a time when workers opting for a standing desk versus a sit-all-day station are starting to discover that, benefits aside, sit stands take up a lot of work space. 6301 TaskMate Go is the name of the redesigned ergonomics solution that is giving more work space back to entrepreneurs and businesses.
Upgrades to the TaskMate Go support a single monitor and a dual monitor solution. Flexibility is offered through the sit to stand desk's adjustable height options and the product's ability to easily be moved to different flat desk locations. The 6301 design eliminates the need to keep two monitors at the same workstation.
HealthPostures' 6300 TaskMate Go series also removes the need to install a laptop and an additional monitor at a single workstation. Standard surface size of the traditional TaskMate Go is 19 inches by 11 inches. This new version of the TaskMate Go has a larger work surface for more work space. Surface space workers gain with the newly designed 6300 TaskMate Go series is 23 inches by 15 inches.
Item numbers for the 6300 TaskMate Go series are 6301, 6351 and 6361. The new 6301 model supports a single monitor. The 6351 adjustable desk stand supports dual monitors. Version 6361 of the TaskMate Go in HealthPostures' new ergonomics product line is built with a laptop holder and monitor. The new 6301 version will not take the place of the standard TaskMate.
Instead, the 6301 TaskMate Go will operate as an addition to the standard version. Traditional and newly designed TaskMate Go are shipped fully assembled. Each standing desk design has an innovative two-point clamp. Unsurpassed stability is gained with the two-point clamping system.
Few stand up desk designs encourage workers to stand while focusing on projects like the 6301 TaskMate Go. Product build allows these same workers to easily transition to sitting in order to shift weight off their feet and ankles. Weight loss, more energy and mobility are natural benefits associated with HealthPostures' ergonomics products.
About HealthPostures
Founded in the 1990s, HealthPostures LLC (https://healthpostures.com) has been a leader in the workplace solutions space for more than two decades. The company specializes in the design and manufacturing of workplace solutions like adjustable computer stand for desk, computer monitor stands for desk, sit stand keyboard designs and ergonomic sit stand chairs. Products that HealthPostures develops may help to relieve back and neck pain, headaches and other musculoskeletal disorders. A primary mission of HealthPostures' is to "strive to provide quality products that will help transform your sedentary life so you have a healthy way to work." Sought after ergonomics stand up desk equipment, including popular electric standing desks products, that HealthPostures designs include surface Taskmates, the TaskMate Go Laptop, dual monitor sit stand work stations and Stance move seat extensions. The company's strong reputation and proven products and accessories continue to attract regional and national distributors and resellers.
Contact:
HealthPostures LLC
16801 Industrial Circle
Prior Lake, MN 55372
800-277-1841
https://healthpostures.com