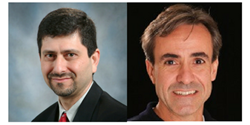 Yorba Linda, CA (PRWEB) September 07, 2016
Biomedical research has gravitated towards 3D cell culture platforms due to their better representation of in vivo tissue structure and function. Imaging of these dense structures proves to be challenging due to lack of light penetration as well as sample preparation specific obstacles that affect image quality. Solutions for addressing these problems are at hand. Nano3D Biosciences and MD Anderson have developed a magnetic 3D bioprinting technique to successfully print spheroids and contracting ring structures that model wound healing. 3D bioprinting of magnetized cells combined with automated confocal imaging provides a novel approach to experimentation with 3D cell cultures.
GE Healthcare is sponsoring a new, free educational webinar, "Magnetic 3D Bioprinting of Cells: Overcoming Imaging Obstacles in Spheroids," which will discuss magnetic 3D bioprinting of spheroids and rings, offer tips for high-throughput confocal imaging of 3D cells within Greiner Bio-One 384 well black µClear® flat bottom cell-repellent surface microplates, techniques for bioprinting cell co-cultures, and rapid 3D model formation with easy post-culture analysis. Continuing education credits will be offered through the PACE system.
The speakers are Glauco Souza, PhD, and Geoffrey Bartholomeusz, PhD.
Dr. Souza, president, CSO, and co-founder of Nano3D Biosciences (n3D), and an adjunct assistant professor at the University of Texas Health Science Center at Houston, is one of the co-inventors of all patents related to n3D's 3D cell culturing by magnetic levitation and magnetic 3D bioprinting technologies. His research mission as CSO is to advance 3D cell culturing by magnetic levitation and magnetic 3D bioprinting into a routine laboratory tool that will improve the drug-discovery process, cancer research, and regenerative medicine. During his post-doctoral tenure at UT MD Anderson Cancer Center, in collaboration with Rice University, the genesis of 3D cell culturing by magnetic levitation and magnetic 3D bioprinting occurred. Results using these groundbreaking technologies have been reported in scientific journals such as Nature Nanotechnology, Nature Protocols, and Nature Reviews Cancer.
Dr. Bartholomeusz is an associate professor and director of the Target Identification and Validation Program in the Department of Experimental Therapeutics at UT MD Anderson Cancer Center. Throughout his career at MD Anderson, Dr. Bartholomeusz has worked extensively as a cancer biologist with expertise in molecular biology and drug development. His research is now focused on developing clinically relevant 3D cell culture models for high-throughput RNAi and drug screens for target identification and validation, identifying regulators of tumor architecture in 3D models of cancer cells, and developing more complex 3D ex-vivo tumor tissue models from patient-derived xenograph models to be used to identify patient-specific anticancer therapies. Dr. Bartholomeusz is published as lead author or co-author in journals such as Cancer Cell, Nature Communications, Molecular Cell, PNAS, and Blood and Cancer Research. The speakers' complete bios are found on the LabRoots website.
The free webinar, hosted by LabRoots, will be presented on September 29, 2016, at 8 am PT/11 am ET.
For full details about the event, continuing education credits, and free registration, click here.
About GE:
GE Healthcare provides transformational medical technologies and services to meet the demand for increased access, enhanced quality, and more affordable healthcare around the world. From medical imaging, software and IT, patient monitoring, and diagnostics to drug discovery, biopharmaceutical manufacturing technologies, and performance improvement solutions, the company helps medical professionals deliver great healthcare to their patients.
About LabRoots:
LabRoots is the leading scientific social networking website and producer of educational virtual events and webinars. Contributing to the advancement of science through content sharing capabilities, LabRoots is a powerful advocate in amplifying global networks and communities. Founded in 2008, LabRoots emphasizes digital innovation in scientific collaboration and learning, and is a primary source for current scientific news, webinars, virtual conferences, and more. LabRoots has grown into the world's largest series of virtual events within the Life Sciences and Clinical Diagnostics community.