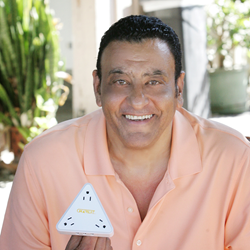 "Connect CHARLIE was inspired by an opportunity to improve our daily lives"
Laguna Beach, CA (PRWEB) September 09, 2016
Connect CHARLIE is the ultimate compact sized 12-in-1 adapter that safely charges all your electronics with 3 plugs and 9 USB ports. CHARLIE also features an LED nightlight and is small enough to fit into the palm on your hand.
Like many other great inventions Connect CHARLIE was inspired by an opportunity to improve our daily lives. Adam Badawy, creator and inventor of Connect CHARLIE, frequently traveled for business but never had enough outlets to charge all his electronics. After years of frustrating challenges at airports and in hotels, he was determined to create a sleek, small, safe charging unit that would serve multiple devices at once, for not only him, but for his colleagues, all the while protecting their electronics from dangerous surges. After 2 years of refinements and a multitude of designs, prototypes and two patents pending, Adam was ready to launch the ultimate 12-in-1 charger Connect CHARLIE.
Upon researching numerous crowd-funding options, Kickstarter was the most fitting platform for Adam to raise capital and launch Connect CHARLIE. After a successful raise, and in fact exceeding his goal he connect with Amazon Launchpad on participating in the program. Adam now manufactures his products and sells to Amazon customers. Connect CHARLIE is available at: https://www.amazon.com/dp/B01I8PSVHC
Amazon Launchpad is a program that makes it easy for startups to launch, market, and distribute their products to hundreds of millions of Amazon customers across the globe. Amazon Launchpad has worked with over 100 venture capital firm, startup accelerators, and crowd-funding platforms to help more than 1,000 startups launch over 750 products in the U.S., U.K., and China, Germany, and France.
The future looks bright for Adam's startup and Connect CHARLIE. On September 17th Celebrities, Media and Influencers will be introduced to the Connect CHARLIE brand at this years ECOLUXE Celebrity Luxury Lounge honoring the 2016 Emmy Award nominees. This event celebrates television's biggest night while giving back to the Shriners Hospitals for Children Los Angeles with the #ChristmasInSeptember theme showcasing the best products for Holiday gifts."
For more information contact: adam(at)connectcharlie(dot)com
https://www.facebook.com/ConnectCharlie/