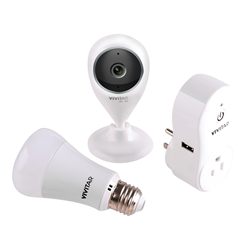 EDISON, NJ (PRWEB) September 14, 2016
Vivitar®, a leading provider of fun and affordable tech products, today launched the newest addition to its Smart Home collection, the Vivitar Deluxe Smart Home/Office Automation Essentials Kit. The new smart home kit provides consumers with an easy to install and cost effective DIY option that allows them to turn their house into a smart home while adding an additional layer of security and comfort. The kit includes a remote-activated security camera, Wi-Fi LED light bulb and smart plug, all of which can be accessed and controlled via the integrated smartphone app. The kit is available nationwide at Office Depot/OfficeMax in-store and online for $129.99.
Highlights of the new Smart Home collection include:
The Deluxe Smart Home/Office Automation Essentials Kit (IPC-560) is everything you need to make your home the ultimate smart home. The kit includes a Wi-Fi motion sensor camera, Wi-Fi electric outlet and a Wi-fi light bulb.
Keep an eye on your home when you are on the go with the remote activated Vivitar CaptureCam. This camera will give you the comfort of knowing and seeing exactly what is going on in your home whether you are in the next room or across the country. The security camera streams super clear HD video securely to any phone or tablet via the mobile app or over Wi-Fi, and allows you to save important moments with the available Micro SD card slot or on the 2GB of free cloud space. Stay in touch easily and interact directly with people at home via any smartphone through the built-in two-way microphone and see what's taking place using the motion detection, night vision and multi-camera viewing angles.
Control your appliances from near or far with the touch of a finger with the Vivitar Smart Plug. Simply plug any appliance into the smart plug which can be inserted into any power socket and paired over Wi-Fi. You'll have the ability to turn lights and appliances on and off from anywhere via the available iOS and Android app. Schedule your sensors once and they'll remember your routine until you change your mind, and you can even schedule your lights to go on and off while you're away from home. The plug also features two USB ports to charge your small electronics.
Thomas Edison would be impressed with the Vivitar Smart Lightbulb, and you'll never want to buy a basic light bulb again. Installation is a snap as you simply screw the lightbulb into any standard light bulb socket and pair over Wi-Fi. Turn the lights on and off and jazz up the room with this smart multi-color LED lightbulb boasting 256 hues of bright LEDs.
About Vivitar
Vivitar designs and manufactures affordable consumer electronics ranging from on-trend digital lifestyle products for millennial consumers to cameras and accessories for amateur and professional photographers. With a rich heritage dating back to 1938, the company's portfolio today spans mobile and audio accessories, cameras, and a constantly evolving array of specialty products in emerging electronics categories. It also is the largest supplier of digital still cameras, camcorders and accessories around the world, harkening back to its origins as an importer of photographic equipment and its subsequent development of industry-leading mass-market cameras, lenses and flashes. A division of Sakar International since 2008, Vivitar is headquartered in Edison, NJ, with offices in the United Kingdom, Latin America, Canada, Australia and Hong Kong, and global retail distribution through more than 100,000 mass market and specialty locations. For more information, visit http://www.vivitar.com or follow the company on social media at Facebook, Twitter, YouTube and Instagram.