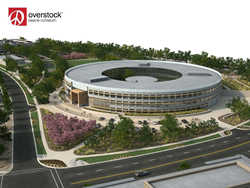 Denver, CO (PRWEB) September 09, 2016
Enabled Energy, Inc. announced today its completion of Overstock.com's "Peace Coliseum" data center in Salt Lake City, Utah. Enabled Energy provided conceptual design, owner's representation during construction, and final commissioning in collaboration with Overstock.com's technologies team to create a data center that reflects the innovative, efficient architecture that characterizes the new 18-acre corporate headquarters.
"From the start, Overstock envisioned a headquarters where a theme of sustainability would influence every part of the campus. Enabled Energy really listened to our goals and invested in our vision," said Carter Lee, Overstock.com's SVP, Technology.
Lee went on to explain that to meet Overstock.com's rigorous energy efficiency and sustainability standards, Enabled Energy engineers took advantage of the ideal Utah climate, selected proven technologies, and chose specific operating points to create a high-efficiency data center in the circular, coliseum-style building. Lee said, "Overstock's goals of creativity and collaboration are fully realized with this design that resulted in a measured instantaneous power usage effectiveness (PUE) of 1.07 on one of the hottest days of the summer. In addition, the data center cooling loop boasts heat recovery to assist in heating the rest of the building during colder weather. To date, this data center is among the most efficient in the world. In addition to energy efficiency, space efficiency was a major factor as well. To maximize usable floor space, cooling units were mounted directly over the cold aisles providing the shortest and most efficient air path."
"When Overstock asked us to design a cutting-edge, ultra-efficient data center as a part of its new corporate campus, we were really excited," said Jon deRidder, Principal of Enabled Energy. "We loved working with the professional teams at Overstock. In our years of working with data centers, I have never seen a team this small do things this big. Overstock's data center will deliver services at a lower total operating cost than any I have ever seen before."
More than 1,500 Overstock.com employees will work at the new headquarters. The campus will include a nutrition-focused café, an on-site greenhouse, a fitness center, daycare, a health clinic, and even has a light rail station next door. The Peace Coliseum was completed Aug. 26, 2016.
About Overstock.com
Overstock.com, Inc. is an online retailer based in Salt Lake City, Utah that sells a broad range of products at low prices, including furniture, rugs, bedding, electronics, clothing, and jewelry. Additional stores within Overstock include Worldstock.com, dedicated to selling artisan-crafted products to help developing nations around the world and Main Street Revolution, supporting small-scale entrepreneurs in the U.S. by providing them with a national customer base. Other community-focused initiatives include Farmers Market and pet adoptions. Forbes ranked Overstock in its list of the Top 100 Most Trustworthy Companies in 2014. Overstock sells internationally under the name O.co and regularly posts information about the company and other related matters under Investor Relations on its website (http://www.overstock.com and http://www.o.co).
About Enabled Energy, Inc.
Founded in 2009, Enabled Energy is a data center engineering services company headquartered in Colorado that provides turnkey solutions for complex problems. With a team of top professionals from the data center industry, Enabled Energy offers a full suite of data center engineering and construction services.
Contact:
Jon deRidder, Principal
Joe Staib, Principal
Enabled Energy, Inc.
Phone: 303.761.9890
http://www.enabledenergy.net