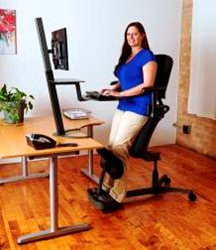 Movement and support are the keys to remaining healthy, alert, and productive.
Prior Lake MN (PRWEB) September 27, 2016
HealthPostures, the standing desk leader that supplies workspace solutions for call centers, retailers, corporations, healthcare and industrial businesses, is expanding its reach. Recently, the standing desk leader entered a deal with Efficient Office Solutions. The deal authorizes Efficient Office Solutions to sell HealthPostures' stand at desk and sit stand move products.
All HealthPostures' sit stand move furniture, equipment and accessories are made in the United States. The 5100 Stance Angle is a best standing desk chair designed by HealthPostures. Support while moving from a sitting to a standing position is a primary benefit that the 5100 Stance Angle provides.
The best standing desk chair is stylish and practical. The chair's large swivel casters, adjustable armrests, angled footrests and adjustable leg cushions offer comfort, support, relaxation and improved mobility. The ergonomics chair also helps to reduce pressure on legs and the spine.
HealthPostures' executives address the workings of the standing desk office chair by sharing that, "Movement and support are the keys to remaining healthy, alert, and productive." Company executives continue, "The Stance Angle chair relieves stress on the spine and pressure on the tailbone caused by using most ergonomic task chairs."
Entering a deal with Efficient Office Solutions puts HealthPostures' ergonomics chairs and desks within easy access of businesses and entrepreneurs in the Delaware and eastern Maryland areas. Efficient Office Solutions specializes in supply products, storage units, modular furniture and panel systems.
In addition to carrying ergonomics products, Efficient Office Solutions coordinates product delivery and installation processes. They visit office areas to survey and analyze worker space, storage and furniture and equipment needs. Adding HealthPostures to their inventory allows Efficient Office Solutions to grow its respectable list of manufacturers, designers like Herman Miller, Paoli and Tab Products.
About HealthPostures
Founded in the 1990s, HealthPostures LLC (https://healthpostures.com) has been a leader in the workplace solutions space for more than two decades. The company specializes in the design and manufacturing of workplace solutions like adjustable computer stand for desk, computer monitor stands for desk, sit stand keyboard designs and ergonomic sit stand chairs. Products that HealthPostures develops may help to relieve back and neck pain, headaches and other musculoskeletal disorders. A primary mission of HealthPostures' is to "strive to provide quality products that will help transform your sedentary life so you have a healthy way to work." Sought after ergonomics stand up desk equipment, including popular electric standing desks products, that HealthPostures designs include surface Taskmates, the TaskMate Go Laptop, dual monitor sit stand work stations and Stance move seat extensions. The company's strong reputation and proven products and accessories continue to attract regional and national distributors and resellers.
Contact:
HealthPostures LLC
16801 Industrial Circle
Prior Lake, MN 55372
800-277-1841
https://healthpostures.com
About Efficient Office Solutions
Efficient Office Solutions was founded in 1983. The company serves businesses and individuals in the Delaware and eastern Maryland areas. Mission of the company is to increase worker efficiency and productivity. Efficient Office Solutions also aims to help businesses reduce waste and gain the most from their work space. Products that the company carries include cabinets, storage systems, furniture, seating, technology and panel systems.
Efficient Office Solutions
117 J&M Drive
New Castle, DE 19720
(800) 339-1174
info(at)eos-tab(dot)com
http://www.efficientofficesolutions.com/