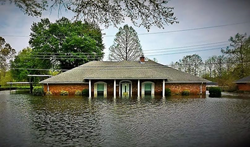 It is our hope that this donation will assist in restoring some sense of normalcy for teachers, parents and students who have been affected by this disaster.
New Orleans, Louisiana (PRWEB) September 27, 2016
Baywood Hotels, a Greenbelt, Md. hospitality management company, has teamed up with the Associated Professional Educators of Louisiana (A+PEL) to donate to teachers and classrooms that are in need of supplies after Louisiana's record-breaking flooding. All contributions will go to teachers impacted by the storm that the Red Cross has called "the worst disaster since Hurricane Katrina."
Baywood Hotels partnered with A+PEL because of the non-profit organization's 30-year history of contributing to Louisiana and its educators. Baywood Hotels owns and operates hotels in Metairie, New Orleans and Lake Charles, considering itself part of the Louisiana community. Because of the flooding events and recognizing the state's great need, especially within the educational system and for the children, the management company has donated $2,500 to help teachers and students recover.
Dr. Keith Courville, Executive Director of A+PEL, says, "We would like to thank Baywood Hotels and the BEAR program for their $2,500 donation to the Professional Educators of Louisiana, who will distribute 100% of donations to teachers who have lost classroom materials in the floods."
According to the National Weather Service, there were over 31 inches of rain in a single day, an event that should only occur once every 1,000 years and that has caused over $8.7 billion in damages. While the storm was traveling to Louisiana, it never developed hurricane force winds, so no advisory was issued. Resultantly, no warning was issued and there was no time for preparation.
"Baywood Hotels has had the pleasure of being able to build and operate hotels in the great state of Louisiana, and we felt as though we were watching this devastation happen to our very own," said Chief Operating Officer Rick Fenstemaker. "Often forgotten areas of need in times of crises include the teachers and administrators who struggle to rebuild their own lives, while still doing what is necessary to continue to educate their students. It is our hope that this donation will assist in restoring some sense of normalcy for teachers, parents and students who have been affected by this disaster."
To make a donation to the A+PEL relief fund, please visit their website. For more information about Baywood Hotels and their local efforts, contact Louisiana Area General Manager Colin Dickerson at 225-678-8512.
###
About Baywood Hotels
Established in 1975, Baywood Hotels, Inc. is a fast-growing and privately-owned hospitality management company operating $1 billion in assets and employing over 1,800 associates nationwide. The company is headquartered in Greenbelt, MD, and has regional offices in Aurora, CO; Herndon, VA; Miami; Pittsford, NY and San Antonio. In each of its regions, the private hotel ownership company is consistently recognized as an innovative leader in the hotel industry, focusing on product concept and development and the outstanding management of its assets. The focused vision, strong values and aggressive long-range strategy of Baywood Hotels have helped the company develop reputable and well-branded hotels in areas where Baywood has competitive expertise and partnerships. Baywood Hotels' portfolio includes well-known brands, such as Marriott, Hilton and InterContinental Hotels Group, as well as several independent brands.brands. Contact us through Facebook, Twitter or http://www.baywoodhotels.com.
About A+PEL
The Associated Professional Educators of Louisiana (A+PEL) is the premier educators' organization in Louisiana, advancing A+ teachers as career professionals. By focusing on professional development, teacher advocacy and excellence in education, we empower Louisiana's youth for future success.A+PEL was formed in 1987 to provide Louisiana teachers a truly professional organization. Our primary purpose is to empower teachers who embrace similar views on education in Louisiana and our nation.We believe teaching is a PROFESSION. A+PEL supports and enhances the recognition of educational professionals throughout the state of Louisiana. Our organization believes providing relevant professional development opportunities for educators in educational as well as leadership skills to make Louisiana a better place for teachers to teach and students to learn.