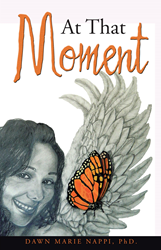 You don't have to live under that stronghold anymore.
Holbrook, N.Y. (PRWEB) September 12, 2016
Any parent can attest to the worry that comes with having children. It's a constant second-guessing game of wondering if they are safe and healthy.
"At That Moment," by Dawn Marie Nappi, PhD., is one mother's story about the unthinkable happening: her 14-year-old daughter's tragic death from a car accident.
Dr. Nappi shares her story, via a heartfelt memoir, in which she details the foreboding moments leading up to the accident, as well as her journey to restore and rebuild the remaining pieces of her life, through faith and hope.
"If I ever had any doubt of God's presence in my life, those were cast away after we lost Angelica," Dr. Nappi said. "There is no way I would have survived this, if there was no God to carry me through it."
Dr. Nappi said that forgiveness has been key to her healing after unimaginable loss. She even has a dedication in her book to the man responsible for her daughter's death.
"There is hope for all those suffering at the hands of addiction," Dr. Nappi said. "You don't have to live under that stronghold anymore."
For more information, visit: http://bookstore.westbowpress.com/Products/SKU-001040171/At-That-Moment.aspx.
At That Moment
By Dawn Marie Nappi, PhD.
ISBN: 978-1-5127-3547-5
Available in softcover, hardcover, e-book
Available on Amazon, Barnes & Noble and WestBow Press
About the author
Dr. Nappi received her BA and MA degrees from Dowling College. She achieved her PhD. in Leadership and Higher Education from Capella University and currently teaches in the Central Islip District. She is the mother of four. She and her husband of 23 years reside in Holbrook, N.Y. with their family and three dogs.
Dr. Nappi works with Mothers Against Drunk Driving (MADD), Long Island, to help victims of drunk/drugged driving. She is also making efforts to pass "Angelica's Law" to toughen vehicle and traffic code penalties.
# # #
**FOR IMMEDIATE RELEASE**
For review copies or interview requests, contact:
Lindsey Gobel
317.435.2116
lgobel(at)bohlsengroup(dot)com