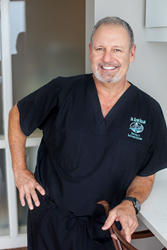 Mt. Pleasant, SC (PRWEB) September 07, 2016
People who need to undergo several procedures to enhance their smiles or improve their oral health are now welcome to visit Dr. Kevin Hogan with or without referrals for full mouth reconstructions. Dr. Hogan, who practices as a highly-trained dentist in Mt. Pleasant, SC, provides numerous treatments to help patients achieve better oral health and function, including dental implants and laser gum surgery. He also utilizes leading technology to improve final outcomes for each patient.
Dr. Hogan offers various cosmetic procedures to improve the appearance of his patients' smiles, along with restorative procedures that can mitigate existing damage. Dr. Hogan treats esthetic issues, such as tooth stains, chips and misalignment, with teeth whitening, porcelain veneers or crowns. To correct more serious problems, he offers periodontal disease treatment, gum tissue recontouring and Invisalign® invisible braces. Dr. Hogan is also prepared to replace missing teeth with dental implants. By planning these treatments in coordination and completing them all in one office, Dr. Hogan can greatly improve efficiency and convenience for patients.
Dr. Hogan has extensive experience performing full mouth reconstructions as a dentist in Mt. Pleasant, SC, and he uses leading technology to give patients the most healthy and attractive outcome possible. With digital x-rays and the VaTech Green Cone Beam CT Scanner, Dr. Hogan can capture more thorough and accurate images of each patient's mouth, which supports more effective planning of procedures such as the placement of dental implants. Whenever possible, Dr. Hogan also uses minimally invasive approaches, such as laser gum surgery, to give patients more comfortable procedures and shorter recovery periods.
For further information about the smile and mouth reconstruction procedures that Dr. Hogan offers at his practice, patients are encouraged to visit his website at http://www.smilesbyhogan.com. To schedule consultations, patients can call Dr. Hogan's office at (843) 216-0908 or visit his website to request an appointment.
About the Doctor
Dr. Kevin Hogan is a general dentist providing individualized care for patients in Mt. Pleasant, SC. Dr. Hogan is a graduate of the Indiana University School of Dentistry and has completed hundreds of hours of continuing education courses to stay contemporary with the latest dental technologies. In addition, he has also completed coursework with the Dental Organization for Conscious Sedation and has lectured at the University of North Carolina, Emory University, the Saginaw Valley University and AUA-American University of Antigua on head and neck anatomy and oral pathology. Dr. Hogan is a member of the American Dental Association, International College of Cranio-Mandibular Orthopedics, Academy of Laser Dentistry, International Association of Physiologic Aesthetics, Institute for Advanced Laser Dentistry, DOCS (the Dental Organization for Conscious Sedation), International Congress of Oral Implantologists and the South Carolina Dental Association. He is also a past member of the American Straight Wire Orthodontic Association, Maxillofacial Orthopedic Growth and Development, the American Academy of Pediatric Dentistry and the Functional Orthodontic Society. He and his team are dedicated to providing exceptional oral care to patients through personalized treatment plans. To learn more about the services offered by Dr. Hogan, please visit his website at http://www.smilesbyhogan.com or call (843) 216-0908.