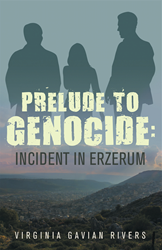 My novel explores love within two families in a time of upheaval as they deal with conflicting ideals of patriotism, honor and loyalty, while caring for impoverished refugees and rebuilding their own lives
PHILADELPHIA (PRWEB) September 08, 2016
In 2015, millions of television viewers watched as Kim Kardashian and her younger sister, Khloe, visited the Armenian Genocide Memorial in Yerevan, the capital of the Republic of Armenia. At the site, they placed flowers in remembrance of hundreds of thousands of Armenians killed by the Ottoman Turks a century earlier.
Many historians call that tragedy the first genocide of the 20th century, saying it prepared the way for Hitler's Holocaust during World War II. The wholesale murder of ethnic groups continues into the 21st century, along with the suffering of surviving refugees.
After listening to her father tell of his parents' illegal escape from Ezerum in eastern Turkey after the 1895 Armenian massacres, Virginia Gavian Rivers wanted to know more. Written accounts by missionaries, diplomats, travelers, and survivors of the massacres gave her the added material she needed to write, "Prelude to Genocide: Incident in Ezerum."
"Prelude's readers will see love, compassion, and religious devotion within two families at a time when refugees, famine, and violence disrupted eastern Turkey," Rivers said.
"Prelude to Genocide: Incident to Ezerum" is a story about two families, Armenian and Muslim, who are neighbors and friends. The Armenian family survives the 1895 massacre in a safe hiding place, provided by their Muslim neighbors, at serious risk to themselves. The mystery at the center of the novel is why one of the Armenian brothers is killed despite the shelter provided by the friend next door.
"My novel explores love within two families in a time of upheaval as they deal with conflicting ideals of patriotism, honor and loyalty, while caring for impoverished refugees and rebuilding their own lives," Rivers said.
As a historical fiction, "Prelude to Genocide: Incident to Ezerum" not only portrays the anxieties, determination, and compassion that accompany genocide, but suggests how individuals in the present can love and care for one another in peace.
Prelude to Genocide: Incident in Ezerum
By: Virginia Gavian Rivers
ISBN: 978-1-4808-1873-6
Available in softcover, hardcover, e-book
Available on Amazon, Barnes & Noble and Archway Publishing
About the author
Virginia Gavian Rivers worked as a journalist, editor and internal publications manager for a major bank in Philadelphia, Pennsylvania, before retiring to write this book. Her research took her to eastern Turkey and later to the Republic of Armenia. Her youngest grandson, Garen, was adopted from Yerevan, the capital of Armenia.
# # #
For review copies or interview requests, contact:
Katie Wenclewicz
317.602.7137