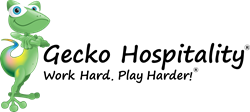 Fort Myers, Florida (PRWEB) September 09, 2016
Headquartered in Fort Myers, Gecko Hospitality, the largest hospitality recruiter in the United States, has once again been honored with a spot on the list of Inc. 5000 companies for 2016.
Gecko Hospitality was founded in 2000 and employs more than 120 people in the U.S. and Canada. The company was ranked #3,470 overall. In the last 35 years, Inc. has welcomed some of the fastest-growing private companies in America into a very elite club. The companies on this list have developed at almost six fold over the past years. The list of Inc. 5000 companies is chosen by comparing existing data against data provided by the U.S. Census Bureau to determine which organizations are doing extraordinary work.
ABOUT GECKO HOSPITALITY
Gecko Hospitality is the largest hospitality recruiter in the United States. Based in Fort Myers, Fla., the firm partners with top restaurants, hotels and casinos to help them identify the best salaried management personnel for their properties. Gecko has 37 regional offices, an international office and a team of more than 80 hospitality recruiters covering all 50 states and Canada. For more information, please visit geckohospitality.com or call (239) 690-7006.