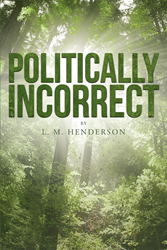 (PRWEB) September 19, 2016
"Politically Incorrect": an unveiled account of today's societal problems. "Politically Incorrect" is the creation of published author, L. M. Henderson, a mother of seven adult children and seven precocious grandchildren. She believes it's time to stand up for what is true, good, and pure—before we see the next generation going down the tubes and losing the freedom from tyranny we have enjoyed for over two hundred years. Because education was important to her from a young age, Linda has earned a bachelor's degree of science and then a master of arts in religion through Liberty University's online degree programs. Even more importantly, though, she has been an Evangelical Christian since 1970. Linda has seen enough of the world to know there is only one answer that can rectify a person's life and their society in general. He is not visible to us in human form, but almost two millennia ago, His empty tomb spoke volumes as to the veracity of His claims. Today, Linda and her husband of thirty-seven years live happily together in a peaceful country village in upstate New York.
L. M. Henderson hopes that "you will be deeply moved by reading these writings to not only be able to see the truth more clearly but to also share it with others."
In the course of her lifetime, L. M. Henderson has seen many changes taking place in the country of her citizenship. From the battle over civil rights in the 1960s to the legalizing of abortions (1973) and gay marriages (June 26, 2015), the United States of America has gone from the strong moral country she once knew as a child to a weak nation not dissimilar to its Roman predecessor.
Published by Christian Faith Publishing, L. M. Henderson's new book lights the true path to freedom so that every person can become the great person they were always meant to be.
We are living in a time of technological advancement far beyond anything this world has ever known. But as history has proven, every new discovery or societal change is not necessarily for the benefit of smaller communities or the world at large. When Einstein, a lifelong pacifist, realized his discoveries would lead to the creation of an atomic bomb, he deeply regretted having ever thought of them. A fellow scientist named Leo Szilard (from Long Island, New York) explained how an explosive reaction could be produced in uranium layered in graphite by neutrons released from nuclear fission. Einstein had honestly never thought of the possibility of creating a destructive weapon. Just because a discovery or new law in the land is passed, is it an indication that man has come to a whole new level of understanding, and that the new way of thinking or living is truly for the betterment of mankind? The author of "Politically Incorrect," L. M. Henderson, suggests many of the societal changes we have seen in the past decades are not for the benefit of the individual, nor will they produce the best results globally. We are all searching for an identity, a purpose, and significance. According to "Politically Incorrect," the questions each of us ask cannot be answered by turning away from God. The recent Supreme Court decisions are progressively leading us down a pathway to destruction. The founding fathers of America knew where their hope came from, and it wasn't from the freedom to do whatever they wanted to do or pass laws justifying destructive behavior.
"Find out the key to unlock the truth in your life which will enable you to stand strong in the days ahead. You can be a stable, victorious person in these turbulent times, motivating changes that will ultimately make the world a better place for you and your loved ones! " – L.M. Henderson
View a synopsis of "Politically Incorrect" on YouTube.
Consumers can purchase "Politically Incorrect" at traditional brick & mortar bookstores, or online at Amazon.com, Apple iTunes store, Kobo or Barnes and Noble.
For additional information or inquiries about "Politically Incorrect," contact the Christian Faith Publishing media department at 866-554-0919.