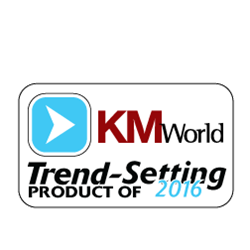 Designated as a KMWorld Trend-Setting Product of 2016, Extensis Portfolio 2016 holds great promise for the marketplace.
Portland, Ore. (PRWEB) September 08, 2016
Today Extensis® announced its digital asset management solution – Extensis Portfolio 2016® – has been named one of KMWorld's Trend-Setting Products of 2016. With breakthrough technology that helps companies maximize the value of digital content, streamline workflows, ensure compliance, and improve productivity, Portfolio 2016 was built to extend the value of digital asset management to organizations of all sizes
KMWorld Editor Sandra Haimila says, "Each year we look for software products that break new territory in helping organizations achieve their knowledge management goals. These products are designed, developed and perfectly timed to fill a niche in the marketplace before users are even aware that such functionality and flexibility have been missing. Designated as a KMWorld Trend-Setting Product of 2016, Extensis Portfolio 2016 holds great promise for the marketplace."
"Extensis is honored to be named one of KMWorld's trend-setting products as we strive to make DAM for everyone," said Toby Martin, Vice President of Development & Strategy at Extensis. "With the explosion of digital content in the past two decades, the need for DAM no longer just resides within large scale enterprises- companies and workgroups of all sizes need effective management solutions if they want to effectively manage their operational expenses."
Martin added: "Portfolio 2016 packs the powerful features companies need for effective digital asset management, while simple to set up, easy to use, and requires little to no ongoing maintenance."
To learn more about Portfolio 2016 and activate a free 45-day trial, visit http://www.extensis.com/portfolio.
About KMWorld
KMWorld (http://www.kmworld.com) is the leading information provider serving the Knowledge Management systems market and covers the latest in Content, Document and Knowledge Management, informing more than 30,000 subscribers about the components and processes - and subsequent success stories - that together offer solutions for improving business performance. KMWorld is a publishing unit of Information Today, Inc. (http://www.infotoday.com)
About Extensis
Celebrating more than two decades in business, Extensis® is a leading developer of software and services for creative professionals and workgroups. Their solutions streamline workflows, securely manage digital assets and fonts, and control corporate typographic branding. Used by hundreds of Fortune 5000 companies, Extensis' award-winning server and desktop products include: Portfolio® for digital asset management, Universal Type Server® for server-based font management, and Suitcase Fusion® for single-user font management. Founded in 1993, Extensis is based in Portland, Oregon, and the United Kingdom. For additional information, visit http://www.extensis.com/
© Celartem, Inc. d.b.a. Extensis All rights reserved. Extensis and the Extensis logo mark, Suitcase Fusion, Suitcase TeamSync, Fontspiration, Portfolio, Portfolio NetPublish, Portfolio Flow and Universal Type Server are trademarks or registered trademarks of Extensis in the United States of America, Canada, the European Union and/or other countries. This list of trademarks is not exhaustive. Other trademarks, registered trademarks, product names, company names, brands and service names mentioned herein are property of Extensis or other respective owners.