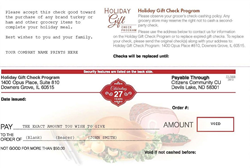 The enhanced website with online ordering offers our customers a convenient way to provide corporate holiday gifts.
Downers Grove, IL (PRWEB) September 09, 2016
Downers Grove-based Holiday Gift Check Program, a distributor of redeemable gift checks as gifts for employees, is excited to announce their newly enhanced website with online ordering. For 28 years, companies and human resource departments have given Holiday Gift Checks as a gift to show appreciation to employees and customers during the holidays.
"The enhanced website with online ordering offers our customers a convenient way to provide corporate holiday gifts. The online processing provides a fast and easy option to customize and order gift checks during their hectic holiday season," said Richard D. Wirth, president and chief executive of Holiday Gift Check. The Holiday Gift check is available in any customized denomination up to $50 for a nominal service charge of only ninety cents to one dollar depending on their customization. Companies can customize their gift check to include the business name and personalize each gift with the employee's or customer's name. For added convenience, companies can upload an Excel or Microsoft document with their recipient names for their online order. According to Wirth, "The original, printable order form is also still available on the website for our traditional customers that have been mailing in their forms for years." Holiday Gift Checks are shipped nationwide, with customer support built-in with personalized service from experienced professionals in the Midwest office.
"Everything we do, like developing the convenient online ordering, is done with the customer in mind," said Wirth. Clients like Dia from reVo marketing group, LLC agree. "Holiday Gift Check Program is the perfect solution to my company's needs during the holiday season. We are able to order gift checks and have them delivered directly to our customers. I have never encountered any issues and they are a great asset to any company that relies on quick, friendly service," she said. Holiday Gift Check has also built strong relationships with major supermarkets and smaller food stores so checks are always nationally recognized and easily redeemed. Customers can also return any extra, undistributed checks anytime for full face value for no service fee.
One of the keys to the company's 28-year-old success story is the flexibility of their product. Wirth points out that unlike store gift cards, which are used only at a certain store and become invalid if the store closes its doors, Holiday Gift Checks can be used at grocery stores nationwide, anywhere checks are accepted. The gift check fees are also nominal compared to the activation fees on universally accepted credit card gift cards.
Our goal for 28 years has been to make gifts for holiday gift-giving easy and affordable," said Wirth. "The new online ordering is another way to do it."
For more information, or to order Holiday Gift Checks, visit http://www.giftcheckprogram.com.
About Holiday Gift Check Program
The Holiday Gift Check Program (HGCP) was launched in 1988 to help companies provide a traditional frozen turkey to their employees during the holidays in the easiest way possible. Since its inception, HGCP has distributed more than six million gift checks to more than 300,000 companies, both large and small throughout the United States, for redemption at grocers across the nation. Canadian checks are also available. Holiday Gift Check Program is located near Chicago in Downers Grove, IL and can be found at http://www.giftcheckprogram.com or by calling 1.630.986.5081.