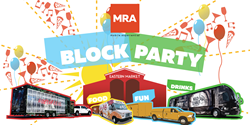 Detroit, MI (PRWEB) September 08, 2016
WHO: MRA is an industry leader in mobile experiential marketing. For 30 years the company has activated mobile tours from start to finish- including design, interior upfit, logistics, permitting, routing, scheduling and staffing. In addition to their global partners, Detroit-based MRA has worked with local organizations and companies including the Detroit Institute of Arts, Meijer, Con-way Freight and Carhartt.
WHAT: Attendees at the event will discover more about how MRA handles every aspect of a mobile tour. Seven of the company's most popular vehicles will be on-hand so guests can get a first-hand look at design possibilities, branding opportunities for their next campaign, and past work. They'll also be treated to complimentary drinks and fare from Detroit-based eateries, as well as various prize drawings for attendees.
WHEN: Thursday, September 8, 2016 from 3:00 p.m. – 7:00 p.m.
WHERE: The Eastern Market Shed 5, 2934 Russell St., Detroit, MI 48207
MEDIA CONTACT: For interviews with MRA representatives or photos, please contact Elizabeth Hoelscher at ehoelscher(at)goMRA(dot)com
BACKGROUND: MRA mobile experiential is an industry leader in mobile exhibit and event marketing. It specializes in custom design, vehicle sales and leasing, as well as tour equipment and logistics-management services for the experiential marketing and exhibiting needs of museums and many Fortune 1000 firms, working either directly or in association with leading agencies and exhibit builders worldwide. Visit http://www.goMRA.com and http://www.youtube/MRAmobiletours.
###