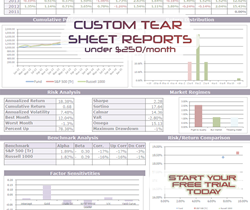 We picked Risk-AI because of the simplicity and high degree of customization of their product, which allowed us to model the exact report we had in mind. We are now able to produce reports for all our indexes effortlessly…
New York, NY (PRWEB) September 08, 2016
Risk-AI, LLC is now the official provider of HFR's factsheet/tearsheet reports for HFR's Indexes. Hedge Fund Research, Inc. (HFR) produces over 140 indices of hedge fund performance ranging from industry-aggregate levels down to specific, niche areas of sub-strategy and regional investment focus. HFR Indices are the most commonly used benchmarks for alternative investments and their website draws many thousands of visitors from around the world each month.
HFR recently updated their website, http://www.hedgefundresearch.com, and wanted their various index factsheets to reflect the look and feel of the new site. Risk-AI was selected as the ideal firm for this endeavor and worked closely with their HFR's marketing team to develop and streamline the process of generating factsheets for each index.
"We picked Risk-AI because of the simplicity and high degree of customization of their product, which allowed us to model the exact report we had in mind. We are now able to produce reports for all our indexes effortlessly…" says Todd Hartman, Director HFR Index Division
"We have worked with Risk-AI on a number of projects and have found the firm to be extremely productive, technologically advanced and very professional," says Joel Schwab, Managing Director at HFR's Database Division
HFR is a trusted provider of hedge fund data, indices and analysis to investors, asset managers and service providers world-wide. HFR currently offers four different families of indices, each utilizing a robust construction methodology in order to offer investors unique insight into alternative investment performance trends.
Risk-AI offers competitively priced customized tear sheet products to individual hedge funds, as well fund administrators, third party marketers and other alternative investments firms. The base product starts at only $249/month for up to 10 funds, and includes full analytical library with many informative reports to produce a comprehensive risk profile.
Risk-AI offers a free 2-week trial of the new Risk-AI Fusion® cloud web app available on https://www.risk-ai.com/FreeTrial/FusionTrial.aspx?referrer=prweb
If you would like more information about this topic, please contact Aleksey Matiychenko at +1 (646) 586-3124 or email at contact(at)risk-ai(dot)com
HFR®, HFRI®, HFRX®, HFRQ®, HFRU®, HFRL™ and HEDGE FUND RESEARCH™ are the trademarks of Hedge Fund Research, Inc.