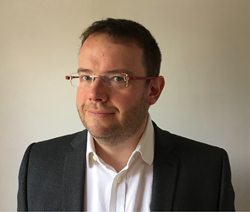 "It's rare to see an organization with such a deep understanding across the lifecycle of data."
New York, NY (PRWEB) September 08, 2016
Eccella Corporation, a leading Data Management and Analytics company, announces the addition of Ian Matthews as their Director of Business Development to support Eccella's growth strategy. In his new role, Matthews will lead Eccella's global accelerated growth across all key markets, drive customer success from partnerships, and scale sales and marketing.
"Our consultants, business solutions and data assets already help organizations unlock the potential of their data, faster. The next step in Eccella's growth strategy consists of global market outreach that promotes those capabilities across the entire organization." Eccella CEO Meitav Harpaz said. "Ian joins Eccella to help our customers make their data-driven strategy a reality as they leverage the most appropriate Eccella offering. He brings business savvy combined with a unique understanding of the technical landscape across our different technology partners' products. Ian is a great thought leader, mentor and advisor and will make an incredible addition to our company and leadership team."
Ian brings more than 18 years of experience helping organizations across Europe improve their approaches to manufacturing via the deployment of large scale test standards, the application of big data in industrial environments, and embedded technologies enabling Industrial Internet of Things (IIoT). Prior to joining Eccella, Ian was responsible for sales effectiveness at National Instruments, using his customer facing background to apply standardization and data-driven decision making to the global sales evolution of process, tools and strategy impacting a $1B organization.
"With the amount of data available to businesses growing exponentially, it's a critical time to invest in developing data strategy and maturity. Future growth challenges facing businesses will require answers which can come only from the combination of high quality, governed data with advances in data science and advanced analytics." Ian said. "It's rare to see an organization with such a deep understanding across the lifecycle of data, along with technology leader partnerships. This strength of knowledge combined with Eccella's culture really helps to drive both value and customer success. I've always been a firm believer that the combination of new technologies, data-driven decisions and industry insight are a foundation for driving value for business. It's exciting to be able to join the team at Eccella and bring industry insight and expertise to complement their knowledge and culture."
About Eccella
Founded in 2010, Eccella Corporation is headquartered in New York City, with additional offices in London and Mumbai. Eccella specializes in Data Management and Analytics and has partnered with the leading software vendors to provide advisory, solutions and implementations services to organizations of all sizes, across multiple industries. Eccella's goal is to help its clients craft the best data strategy for their organization and implement solutions in support of their operational needs and growth goals.