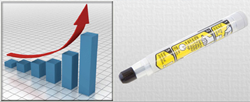 We have identified a real need in the drug delivery and combination product industry for independent testing and compliance services for ISO 11608 related testing
New York, NY (PRWEB) September 14, 2016
Whitehouse Laboratories has established a dedicated unit focused on providing support and testing for compliance with ISO 11608, "Needle-Based Injection Systems for Medical Use — Requirements and Test Methods".
"We have identified a real need in the drug delivery and combination product industry for independent testing and compliance services for ISO 11608 related testing," said Mark Stier, General Manager of Whitehouse Laboratories. "Whitehouse Labs has recently equipped itself with further expertise and the equipment necessary to test to the international standard. Our Laboratories are equipped to precisely determine dose accuracy, needle application, and removal torque, plunger force, container leakage, and other physical attributes of drug delivery devices," Mr. Stier continued.
ISO 11608 specifies requirements and test methods for needle-based injection systems (NISs) intended to be used with needles and with replaceable or non-replaceable containers. ISO 11608 comprises seven parts, under the general title Needle-based injection systems for medical use — Requirements and test methods Whitehouse currently provides testing for include:
— Part 1: Needle-based injection systems
— Part 2: Needles
— Part 3: Finished containers
— Part 4: Requirements and test methods for electronic and electromechanical pen-injectors
— Part 5: Automated functions
In the FDA Guidance document entitled, Technical Considerations for Pen, Jet, and Related Injectors Intended for Use with Drugs and Biological Products, it is recommended that performance testing for general use injectors be with the final injector for marketing and should take into account the characteristics of the wide range of drugs/biological products in their final approved dosing form with which an injector is intended to be used. When conducting performance testing, it is recommend that the most current version of the standards recognized by FDA are followed, which includes the ISO 11608 series. In addition to ISO 11608 testing, Whitehouse Labs provides complimentary testing for drug delivery and combination products, such as container integrity closure (CCI) and package and distribution testing.
Whitehouse Labs in addition to ISO 11608 testing provides complimentary testing for drug delivery and combination products such as container integrity closure (CCI) and package and distribution testing.
Using an outside, independent testing laboratory to prove compliance to regulatory requirements can free up precious resources for companies to concentrate on product development.
About Whitehouse Laboratories
The leader in testing, Whitehouse Labs, a division of Albany Molecular Research Inc. (AMRI), offers comprehensive analytical services providing support for manufacturing from development to market. From analytical chemistry and material qualification to packaging optimization, Whitehouse Laboratories is the testing partner for the world's leading Pharmaceutical, Biotechnology, Medical Device, Life Sciences and Consumer Products organizations.
If you have any questions regarding information in these press releases please contact the company listed in the press release.
Contact Information
Mark Stier
Whitehouse Laboratories
http://www.Whitehouselabs.com
(877) 837-8522