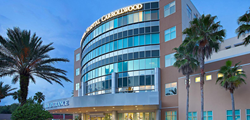 This focus on interconnectivity makes a difference in the work environment for our staff and physicians.
Tampa, FL (PRWEB) September 07, 2016
Florida Hospital Carrollwood, an Adventist Health System facility, has been recently recognized by HIMSS Analytics™ for achieving a Stage 7 status. This is awarded to hospitals and clinics that have reached the highest level on the EMR Adoption Model (EMRAM) and the Ambulatory EMR Adoption Model, which is used to follow EMR progress at hospitals and health systems. Florida Hospital Carrollwood earned this prestigious award by using innovative technology every day to deliver exceptional care for their patients. The EMRAM identifies and rates hospitals and clinics using a progressively sophisticated eight stage model that charts the path to a fully paperless environment.
"I am incredibly proud of our team here at Florida Hospital Carrollwood, and the continued efforts our entire team has made to enhance and improve upon our already strong focus on a paperless system," said Joe Johnson, President and CEO. "This focus on interconnectivity makes a difference in the work environment for our staff and physicians. It also ensures that in turn our patients and their loved ones experience an enhanced level of care."
In 2005, HIMSS Analytics developed the EMR Adoption Model as a methodology for evaluating the progress and impact of electronic medical record systems for hospitals in the HIMSS Analytics™ Database. There are eight stages (0-7) that measure a hospital's implementation and utilization of information technology applications. The final stage, Stage 7, represents an advanced patient record environment. The validation process to confirm a hospital has reached Stage 7 includes a site visit by an executive from HIMSS Analytics and former or current chief information officers to ensure an unbiased evaluation of the Stage 7 environments.
"Patient safety and providing the highest quality of care are at the center of all that we do here at Florida Hospital Carrollwood," said Robin McGuinness, Chief Nursing Officer and Vice President of Patient Care Services. "Our team has embraced a truly digital culture, and we are proud of the positive impact this has continued to make in the efficiency, safety and standard of care we can provide to our community."
Florida Hospital Carrollwood is one of a few select hospitals in Florida that have been recognized for this achievement for maximizing their medical records system's utilization. There are a multitude of benefits for both the patient and provider in keeping electric medical records. This includes enhanced treatment and diagnosis, improved accuracy within a patient's health record, advanced electronic prescribing and the ability to transfer patient's data to other departments are just a few advantages to the implementation of a well refined EMR system.
During the week of February 13th, 2017, Florida Hospital Carrollwood will be acknowledged at the 2017 Annual HIMSS Conference & Exhibition in Orlando, Florida.
About Florida Hospital Carrollwood
Conveniently located for Tampa Bay Area residents, Florida Hospital Carrollwood is a 120-bed acute care facility that specializes in providing comprehensive medical services in an environment of Christian compassion and healing. Awarded by the Florida Hospital Association for Leadership in Quality and Patient Safety in 2014 and 2015, the hospital is a member of the West Florida Region of Florida Hospital and Adventist Health System. Florida Hospital Carrollwood offers recognized spine, orthopedic and bariatric surgical services, as well as Emergency, Cardiology, and Wound Healing and Hyperbaric Medicine services with highly skilled clinical staff and physicians dedicated to providing the highest quality of care with an inspired approach. For more information, please visit fhcarrollwood.org
About HIMSS Analytics
HIMSS Analytics is a wholly owned not-for-profit subsidiary of the Healthcare Information and Management Systems Society. The company collects and analyzes healthcare data related to IT processes and environments, products, IS department composition and costs, IS department management metrics, healthcare trends and purchase-related decisions. HIMSS Analytics delivers high quality data and analytical expertise to healthcare delivery organizations, healthcare IT companies, state governments, financial companies, pharmaceutical companies, and consulting firms. Visit http://www.HIMSSanalytics.org/ for more information.