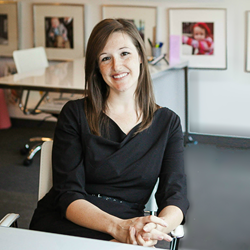 All around the world, moms are coming up with ways to make their lives easier. So why not enlist in their help?
New York, NY (PRWEB) September 08, 2016
Showing what it takes to get ideas on shelves, and how a little mom-endorsed direction can go a long way, Lauren Fitzgerald, Managing Director of The Mom Complex, and Robyn Mermelstein, Director of Brand and Digital Marketing at Hain Celestial (Earth's Best) will premiere a marketing to moms case study at the 12th annual M2Moms® - The Marketing to Moms Conferenc e, October 4 & 5, 2016, New World Stages, NYC. The session, "From Idea To Shelf: A Marketing To Moms Success Story", is designed to change the way the brand marketers at M2Moms® think about, market to and connect with today's moms, who are the most powerful consumers on the planet
The Mom Complex's Fitzgerald explained, "All around the world, moms are coming up with ways to make their lives easier. So why not enlist in their help? After connecting at M2Moms® two years ago, Robyn and I began creating a pipeline of mom-focused innovation. After being immersed in everything mom, from their aspirations and challenges to their favorite products and purchasing motivations, we identified a significant opportunity to help moms feed their kids well, but also to shape them to have a healthy relationship with food throughout their lives. Today, you can find a whole freezer door full of new, mom-focused snacks in Target stores nationwide."
Lauren Sweeney, M2Moms® producer added, "We're so proud that this collaboration started at M2Moms®. It really demonstrates what M2Moms® is all about, content and connections that go into every successful marketing campaign. Case studies like Earth's Best pull it all together. From the research and the concept, the creative and the messaging, to the channels and the point of sale, case studies provide a blueprint for marketing to moms success."
"That's why brand and ad execs from virtually every product category attend M2Moms®," Sweeney explained. "They know the research and case studies, the new techniques and how-to sessions will really help them improve their marketing and sales. Moms are brand-critical decision makers for a broad range of products and services. The Fast Facts page on M2Moms® website is filled with statistics showing that moms buy everything from sports drinks to prom dresses, diapers to dog food, lipstick to laptops, autos to pharmaceuticals. They buy for their homes, for their kids and they plan and pay for the family vacation. They purchase on every channel, every possible screen … traditional and new media … they use it all."
"Every year," Sweeney continued, "M2Moms® is attended by a comprehensive and diverse list of brands including Microsoft, Johnson & Johnson, Evenflo, IKEA, Abbott Nutritionals, GM, Allstate, Heinz, Symantec, Hasbro, BBC, NBA, Procter & Gamble, Wyeth and Coca-Cola. M2Moms® attendance typically sells out."
2016 M2Moms® sponsors include Presenting Sponsor: Google; Associate Sponsors: Mabel's Labels, Twitter, Conill, and The Family Room; Showcase Sponsors: NBC Universal/Sprout, Ibotta, Influence Central, Ipsos, House Party, Lake Group Media, LifeScript, Macaroni Kid, C+R Research, Acorn, Strottman, Social Media Link, Collective Bias, C Space, MOPS Intl., Mom 365, PCH, The Bump, Sampler, WebMD and the Baby Center. Video Content Resource Sponsor: Snippies.
Lauren Fitzgerald, Managing Director, The Mom Complex
As the Managing Director for The Mom Complex, Lauren is responsible for turning insights about modern family life into innovative new products and solutions for the largest brands in the world. Companies such as Unilever, Kimberly-Clark, Playskool and The Discovery Network rely on Lauren's creativity and ingenuity in order to better connect with and support their mom customers and employees.
Lauren's ability to draw the passion and pain points out of mothers across the country is unmatched. She collaborates with and strives to champion mothers of every age, ethnicity and socioeconomic background. Working collaboratively with senior executives at Fortune 500 companies, Lauren gets out of bed every day to build better products and services for mothers and better bottom lines for companies.
Robyn Mermelstein, Director of Marketing (Baby), Hain Celestial (Earth's Best)
Robyn is a seasoned marketing executive with 15+ years of brand and agency experience developing and leading global communication strategies for CPG brands. As the Director of Marketing at Hain Celestial, Robyn singlehandedly leads the creative vision, communication strategy, and tactical marketing execution for a $500MM Infant and Kids Portfolio for Earth's Best Organic® and Ella's Kitchen®.
She is personally dedicated to making healthier options available for parents to feed their children, both for her job and on behalf of her own two daughters. She is a results-driven, dynamic leader in her organization, and is known for her ability to solve business challenges in nontraditional, innovative ways. When she isn't working to create healthier solutions for mothers, she and her husband enjoy taking their kids to the Long Island Children's Museum or to the local supermarket, where her girls love to shop for different foods
12th annual M2Moms® - The Marketing to Moms Conference, http://www.m2moms.com
M2Moms® is an executive learning event designed to teach brand marketing executives and their agencies how to improve their marketing to moms. For M2Moms® information: http://www.m2moms.com or 860.724.2649 x11. M2Moms® is produced by PME® Enterprises LLC, 912 Silas Deane Hwy., Suite 101, Wethersfield, CT 06109.