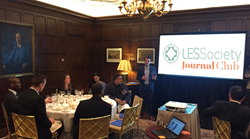 ...Closely analyzing massive shifts in what insurance entities will and will not cover will promote productive discussion...
(PRWEB) September 08, 2016
On September 8th, 2016, The LES Society will bring together the best spine physicians to shape the complex future of healthcare. Three major tiers of this industry will be directly addressed: Clinical, Technical and Business. Each tier plays a substantive, imminent role in the future of American healthcare. The LES Society has invited physician experts Michael Murray, MD and John Shiau, MD to help lead these discussions.
The clinical tier of the discussion will kick-off with a study on minimally invasive SI- (sacroiliac joint) fusion procedure outcomes. The group will weigh the importance and benefits of using titanium implants over conservative pain management methods in patients with sacroiliac joint pain, and explore ways to improve surgeon efficiency and patient results.
The meetings focus will then shift to surgical technique. Meeting participants will review ideal starting points and trajectories for cervical pedicle screw placement at the C2 (neck) level of the spine, then expand the discussion to pedicle screw placement and usage across the whole neck.
Finally, the business tier of the meeting will address Medicare coverage for sacroiliac joint fusion, in response to the recent announcement that Medicare will begin providing access to coverage for minimally invasive SI-joint fusion in all states, when billed correctly. Closely analyzing massive shifts in what insurance entities will and will not cover will promote productive discussion at the Journal Club, enabling members of the meeting to plan for the future of Less Exposure Surgery technology.
The meeting will be hosted by Professor Kingsley R. Chin, MD, founder and CEO of the LESS Institute, Affiliate Professor at Florida Atlantic University, Clinical Professor at Florida International University and Author of the Book Prove Yourself. Learn more about him in his full bio.
About LES Society
The LES Society was established to be an organization that challenges the status quo. The LES Society's mission as a global 501c(3) non-profit is to organize physicians and patients to focus on supporting entrepreneurship, research, education, techniques, technologies, advocacy and philanthropy. The LES Society is leading the charge to prove, through bench-marking and clinical outcomes research, that Less Exposure Surgery (LES) treatment options are the best solutions to lowering the cost of healthcare. In addition, LES improves outcomes and patient satisfaction. These procedures are performed safely and routinely in ambulatory surgery centers throughout the United States.
The LES Society has a full calendar of upcoming events. Join the LES Society movement at their next event!
To sign up, visit LESSociety.org.
Contact Jessica Morgan at jessicamorgan(at)lessociety(dot)org for more information.