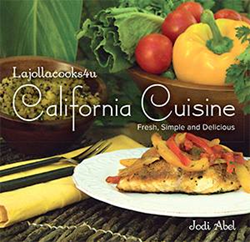 SAN DIEGO, CALIF. (PRWEB) September 13, 2016
Lajollacooks4u is pleased to announce that sales of its recently published cookbook, Lajollacooks4u: California Cuisine, have exceeded expectations. Published in November 2015, the book has already been picked up by various specialty grocers around California, as well as featured in numerous culinary publications.
The cookbook offers stunning food photography with nearly 100 mouthwatering recipes. Author and chef Jodi Abel provides a taste of her signature Lajollacooks4u dishes she whips up for guests at her San Diego-based gourmet cooking school. Each of the book's recipes draws inspiration from the international flavors and vibrant cultures that permeate throughout California. Dishes range in Asian, Mediterranean, and Latin influence, and nearly every recipe offers dietary alternatives for vegetarian, vegan, paleo, dairy-free, and gluten-free diets.
Lajollacooks4u: California Cuisine can look forward to continued success as a staple among those who appreciate simple, fresh and delicious cooking, as well as those looking to experience California cuisine for the first time.
Upcoming book-signing events include:

Savory Spice in Encinitas, CA, September 24
The Spice Way in Encinitas, CA, September 25
The 2016 Jewish Book Fair, San Diego, CA, November 1
Village Kitchen in Glendale, CA, December 3
For more information about these events, or to purchase a copy of the cookbook, please visit http://www.lajollacooks4u.com.
About Lajollacooks4u:
Lajollacooks4u, founded in 2008, provides an ideal activity for corporate team building, couples and any foodie looking for a unique cooking and culinary experience in a magnificent setting overlooking the Pacific Ocean. Based in La Jolla, a suburb of San Diego, CA, Lajollacooks4u has enjoyed record growth since its inception in 2008 and has been ranked as one of the area's top attractions on the popular travel review site, Trip Advisor. In November 2015, Chef Jodi Abel also released her cookbook, Lajollacooks4u: California Cuisine, an accumulation of the favorite recipes her guests have been raving about. For more information about her cooking events, as well as her cookbook, please contact jodi(at)lajollacooks4u(dot)com or visit http://www.lajollacooks4u.com.