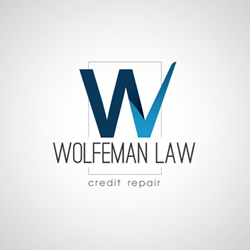 During the period of this promotion, our Credit Repair sign-up fee will be only be $1!
Scottsdale, Arizona (PRWEB) September 15, 2016
Wolfeman Credit Repair announced they will be running a monthly promotion to help their clients restore their credit ratings. During the period of this promotion, the sign-up fee will be a total of $1. You read that right. For that one dollar, their specialists will evaluate one's credit history, and develop a game plan with them geared towards getting them back on track. He or she will also prepare any legal documents that will be necessary for their journey back to credit worthiness. Additionally, the client will have access to their own client dashboard, giving them full access of how they are progressing in this journey to building their credit back.
As a market leader, Wolfeman Credit Repair has set out to play its part in helping every one of us to have a credit score he or she can be proud of, not only so that they can boast of it, but also so that people can access cheaper credit from financial institutions and build their life. At Wolfeman Credit Repair, their endeavor to always make sure that their clients have a full understanding of what the credit report says and what they can do about it.
They claim its their duty, as an American company to help Americans get affordable access to financial support from the different financial institutions that they will turn to. In line with this mandate, they always look forward to providing clients with a platform, at a fee of only $1, upon which clients can learn more about their credit scores, understand where it is they may have slipped and help them formulate a game plan to get them back in the game.
During this period, they will give clients access to their rich pool of associates, who are skilled in the processes of credit restoration. They take clients through their report as it is, advise them on what affects their credit score and what it is they should be on the look out for. Afterwards, based on their abilities and the review of their financial history, they can determine what it is that will work out best.
Be sure to visit us them at http://www.wolfemancreditrepair.com for any information that you seek or for any clarifications that you may need regarding your credit score. Wolfeman Credit Repair is a market leader in credit restoration, This is why they're pleased to provide this opportunity to their esteemed clients and prospects. Once again, anyone who is interested in maintaining a responsible financial future can always visit them at http://www.wolfemancreditrepair.com. You can also reach them on 1 844-232-9937 or email them on info(at)wolfemancreditrepair.com.