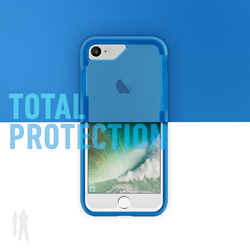 There are many cases on the market, yet none of them match the simplistic and thoughtful design of Ace Pro. -Gavin Wallin
LEHI, UT (PRWEB) September 07, 2016
BodyGuardz®, leader in mobile device protection, today introduced Ace Pro™, its newest and most advanced case for iPhone 7 and 7 Plus, sporting a beautiful and minimalistic design that harnesses Unequal technology to deliver pro-athlete grade impact protection.
"There are many cases on the market, yet none of them match the simplistic and thoughtful design of Ace Pro," said Gavin Wallin, senior project manager, BodyGuardz. "This case, in all of its color variants, is truly beautiful, and through our custom injection molding process, the Ace Pro makes even greater use of Unequal technology, to ensure that, like professional athletes, your new phone bounces back from life's hardest hits."
As a result of its sleek and low profile design, the Ace Pro highlights the elegantly curved elements of Apple's latest device, which helps ensure that your new iPhone continues to 'look and feel' like an iPhone while also protecting it from catastrophic damage.
Ace Pro harnesses the protective power of Unequal®; a military grade, shock-blocking technology that's trusted by pro athletes to help reduce the risk of serious injury. Made with Kevlar and Acceleron, Unequal absorbs and dissipates impact energy in order to minimize the mobile device damage as caused by accidental drops.
BodyGuardz Ace Pro™ is available for purchase ($34.95) today in clear, blue, rose gold or smoke grey color options for the iPhone 7 and 7 Plus.
To learn more about and purchase Ace Pro case today, click here.
About BodyGuardz®
Founded in 2002, BodyGuardz is committed to offering top-quality products and services at competitive prices. The company prides itself in providing products, service and delivery that customers notice as a step above the rest. BodyGuardz designs reliable mobile device accessories that keep up with today's active lifestyles. Learn more about BodyGuardz by visiting http://www.bodyguardz.com
About BGZ brands™
BGZ brands' mission is to enhance our customers' lifestyles through branded products and services of elevated value and quality. Formerly known as BodyGuardz, BGZ brands has become the powerhouse parent company of three distinct consumer electronic accessory brands, including BodyGuardz®, a leading device protection company; Lander™, expedition-inspired accessories for the explorer in all of us; and MOXYO™, modern accessories for you. For more information, visit http://www.bgzbrands.com
###