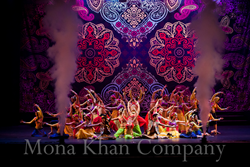 Milpitas is the perfect place for Mona Khan Company to call home given its diverse community and love of Indian music and culture, which we want to share with the entire Bay Area and beyond. - Mona Khan
Milpitas, CA (PRWEB) September 08, 2016
Mona Khan Company announces the opening of a brand new flagship dance studio at 469 Jacklin Rd, Milpitas, CA. A grand opening ceremony is planned for September 10th, 2016 from 5-8pm open for free to members of the press and public. City of Milpitas Mayor Jose Esteves will preside over the ribbon cutting ceremony and the launch party will be filled with music and dance. Attendees will have the opportunity to learn more about both the company's comprehensive dance programs offered to all age groups through interactive demos as well as the explosive dance fitness program, Bombay Jam®. Check out the Facebook event page and be sure to click attending and share with your family and friends!
"Milpitas is the perfect place for Mona Khan Company to call home given its diverse community and love of Indian music and culture, which we want to share with the entire Bay Area and beyond. We truly believe that communities come together when we can speak to each other in the universal language of music and dance," said Mona Khan, Mona Khan Company founder.
State Senator Bob Wieckowski has recognized Mona Khan Company with a Special Certificate of Recognition for its significant contribution to dance education and performance.
Mona Khan Company Milpitas will already be holding a series of Bollywood dance classes as well as offering Bombay Jam® fitness classes soon. More information, including class schedules and registration information can be found at http://www.monakhancompany.com. Also, a video montage showcasing some of Mona Khan Company's best moments can be found at https://www.youtube.com/watch?v=nVkg42RKrBg.
About Mona Khan Company
Mona Khan Company is a critically acclaimed Bollywood dance and fitness company based in the San Francisco Bay Area. The professional dance troupe has an extensive repertoire, performing at live events, festivals and on national TV. The company has performed with the "King of Bollywood" Shah Rukh Khan, as well as Shaan and Shankar Mahadevan. In 2010, the Mona Khan Company was chosen out of 70,000 acts across the nation to be in the Top 48 on the NBC show, America's Got Talent. In 2013, they were invited to perform at an Inaugural Ball in Washington D.C. in honor of President Obama's second term in office! Most recently, the company was invited to perform in honor of India Prime Minister Narendra Modi during his visit to the United States. The company was also invited to perform at the Super Bowl 50 Half Time show alongside with Beyonce, Bruno Mars and Coldplay.
In addition to performing, the company offers more than 100 Bollywood and contemporary dance classes per week for ages 3 and up in 10 cities in the Bay Area and Sacramento. Classes are offered at varying levels, from basic to advanced.
Bollywood music and choreography have also been translated into the wildly popular Bombay Jam® dance fitness program. There are currently over 100 certified instructors teaching in dozens of studios and corporate fitness facilities, all over the United States and in number of major international cities. The Bombay Jam® Dance Workout DVD is available on amazon.com.
More details for Mona Khan Company & Bombay Jam®:
Youtube: http://www.youtube.com/monakhanbollywood || http://www.youtube.com/bombayjamworkout
Instagram: monakhancompany || bombayjam
Twitter: @monakhancompany || @bombay_jam