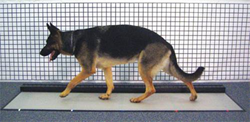 We were able to get p-value significance in all forms of subjective veterinary observation, subjective owner observation, using the Canine Brief Pain Inventory, as well as the 25th percentile quartile of most severely affected dogs
Lexington, KY (PRWEB) September 08, 2016
MediVet Biologics is proud to announce a publication from Kansas State University in the September 2016 issue of the American Journal of Veterinary Research. The study scientifically proved a significant improvement in pets with osteoarthritis of the hip joints, when treated with MediVet Biologics ActiStem Therapy. The study was based on the work of Dr. Mark L. Weiss, PhD and Dr. David A. Upchurch, DVM. The research was funded by Kansas State University independent of MediVet Biologics. This is a major advancement for the animal health industry as this is the first study conducted at the university level to examine safety and efficacy of autologous stem cell therapy for the treatment of canine osteoarthritis in a randomized, double-blind placebo controlled design.
Jeremy Delk CEO of MediVet Biologics said, "As a leader in the market it is our goal to continue to put out good scientific data. This corroborates scientifically what early adopting veterinarians continue to see clinically in their practices. Our mission in the market remains steadfast, to bring novel treatment options based in safety and efficacy that owners can afford to the general practice. We want to impact the lives of pet's and their owners through disruptive medical technologies such as cell therapy and regenerative medicine. Medication of pets and people are not the long-term solution; cell therapy offers an alternative today in the animal health industry to broaden the treatment scope of disease."
About the Study: The double blind study was conducted on 22 dogs. Each dog had been diagnosed with osteoarthritis of the hip joints by a board certified orthopedic surgeon. Out of the 22 dogs, 10 received the ActiStem treatment the remaining 12 received a placebo.
The study proved to show statistical significance in outcome measures such as canine brief pain inventory (CBPI) and a marked improvement in the treatment dogs utilizing blinded visual analogue scale (VAS). Additionally, a statically significant improvement was noted in the treatment group utilizing objective outcome measures for patients in the most severe pain quartile by examining peak vertical force (PVF) using a pressure sensitive walk way.
No adverse effects or side effects were present in any of the dogs treated further identifying that ActiStem Therapy is safe in dogs.
At the end of the study, the 12 initially untreated dogs were treated with ActiStem treatment. MediVet Biologics donated the kits, equipment and protocols used for trial.
"When we first heard about MediVet technology from one of our alumnus there was an interesting and compelling amount of clinical data, but as a researcher and scientist it wasn't scientifically significant to me. We designed this study initially as a power analysis, but we were very surprised that we were able to get p-value significance in all forms of subjective veterinary observation, subjective owner observation, using the Canine Brief Pain Inventory, as well as the 25th percentile quartile of most severely affected dogs". - Dr. Mark L. Weiss, PhD
A secondary trial has been opened utilizing the same ActiStem Therapy for the treatment of canine atopic dermatitis, that trial is open for enrollment at Kansas State University.
About ActiStem Therapy: ActiStem Therapy incorporates an autologous (from the patient back to the patient) concentration of regenerative stem cells and other repair cells. These cells are collected from a small fat and blood sample from the patient processed on site and reintroduced to the patient same day. Traditional treatment options only allowed for sending off the tissue sample to a third party laboratory. By processing in-clinic, pets can receive their own concentrated regenerative cells all in one visit to the veterinarian office.
Click here if you think your pet may be an ideal candidate and to get a FREE ActiStem consultation for your pet.
About MediVet Biologics: MediVet Biologics are leaders in veterinary science. They specialize in regenerative medicine and oncology treatments for companion and large animals. The company was founded in 2010 and since then has attracted thousands of veterinary partners globally seeking better solutions for pets and owners. To learn more visit the website at http://www.medivetbiologics.com