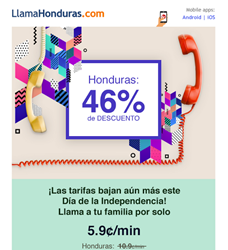 Excellent service & rates. Please don't change anything! I will gladly recommend you to my friends and family. (Orlando Raudales)
Atlanta, Georgia (PRWEB) September 09, 2016
All expats originally from Honduras who need to call their relatives and friends back home these days receive 45% discount on September 15th, 2016 on LlamaHonduras.com. That is possible with the 5.9¢/min special rate on Independence Day. The minimum Voice Credit purchase for calls to Honduras is $2 and can be made online, in a few seconds: https://llamahonduras.com/buy/voice.
To call at the special rate on Independence Day, one needs to open a free account on LlamaHonduras.com and buy a minimum $2 Voice Credit for international calls. The balance that remains unused after the promotional day September 15th does not expire. It can be later used for more calls to landlines or mobiles in Honduras at the regular rate of 10.9¢/min (landlines) and 15.9¢/min (mobiles).
LlamaHonduras.com's calling system is a smart and economical alternative to calling cards, which are pretty expensive due to offline expenses. First, one needs to add a minimum of $2 Voice Credit to one's LlamaHonduras.com account, next calls can be made in 3 different ways:

On the go, using KeepCalling app for Android and iOS devices.
From any phone to any phone in Honduras or elsewhere without an Internet connection, using access numbers just like with the traditional calling cards.
From the Web Call app, which is available in one's account, and helps one make calls while browsing one's laptop or PC.
Outside the promotion, $10 Voice Credit balance on LlamaHonduras.com includes 91 minutes to call landlines or 62 minutes to call mobiles in Honduras. The balance never expires and can be used anytime.
Every purchase on LlamaHonduras.com brings Thank You points for free international calls. They are added automatically and can be turned into calling credit once they amount to 1,000. That can be done independently, by the owner of the account, and can bring him or her up to 91 minutes to call Honduras just because he or she is a loyal customer.
The current offer on Honduras's Independence Day is the way LlamaHonduras.com decided to support long distance communication between Hondurans and their relatives or friends back home on a day that is so important. It is not only a date in the calendar, but the day Honduran communities get together to celebrate liberty, despite the distance that separates families and friends. And technology, including ethnic phone services like LlamaHonduras.com, can fill in that gap at affordable prices, high quality, and easy dialing.
Claro and Tigo phone numbers in Honduras can be refilled online via LlamaHonduras.com. That is because, besides Voice Credit for international calls, anyone holding an account on the website benefits from the Mobile Recharge service as well. This online option allows one to send mobile credit to relatives and friends in Honduras via the website. It only takes a few seconds and the credit gets to the beneficiary in Honduras instantly.
On LlamaHonduras.com, expats get several more extras.

Thank You points are added automatically on both Voice Credit and Mobile Recharge purchases.
Free features like Speed Dial and PINless Dialing make international calls feel like domestic calls when activated. One can do that just by tapping a button in the account.
Auto Recharge is another feature everyone has access to. Once it is set, it feeds the account with more balance when calling credit drops below a certain amount.
LlamaHonduras.com is a website dedicated to the Honduran diaspora. The website is a brand of KeepCalling, a global telecommunications company registered in 2002 in the USA. Presently, KeepCalling provides its services to hundreds of thousands of consumers and businesses, with a focus on customer satisfaction. KeepCalling has been listed by Inc 5000 as one of the fastest growing companies in the USA for 5 consecutive years. In 2015 the company registered a revenue increase of over 200% from 2011 to 2014.