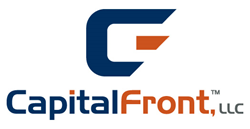 Roughly 20% of mortgage borrowers are self-employed business owners.
PHILADELPHIA, PA (PRWEB) September 14, 2016
CapitalFront, LLC today announced that it has become a preferred provider of unsecured business loans for the Lenders One® Cooperative ("Lenders One"), the largest alliance of independent mortgage bankers, correspondent lenders, and suppliers of mortgage products and services in the United States.
The new relationship with Philadelphia-based CapitalFront gives Lenders One members an opportunity to expand their connections with residential mortgage customers by providing a solution for self-employed borrowers seeking fast, flexible financing options for their small businesses.
Lenders One was founded in 2000 and serves as a marketplace for mortgage bankers, giving its members access to products and services that create revenue, reduce costs, and increase operational efficiencies. Currently, the cooperative has roughly 250 members across the country.
Brian Simon, the Co-Founder and CEO of CapitalFront, is a 20-year veteran of the lending industry. He previously served as COO of New Penn Financial and CEO of Caliber Home Loans, each of which was a member of Lenders One. Given his industry experience and history working with the members of Lenders One, Simon recognized the value that CapitalFront could deliver to the membership.
"Roughly 20% of mortgage borrowers are self-employed business owners," said Simon. "The relationship between CapitalFront and Lenders One allows the cooperatives members to differentiate their services and strengthen their relationships with their customers by offering borrowers access to capital for their business needs."
CapitalFront offers small and middle-market businesses nationwide an alternative to large institutional lenders. The company brings a customer-first mindset to lending, viewing its clients as long-term partners and taking the time to help them understand their options and find the solution best suited to their business needs. Products available to CapitalFront customers include fixed-rate term solutions, merchant cash advances, receivable financing, factoring, and SBA loans.
About CapitalFront
CapitalFront, LLC, a leader in small business lending, was launched in November 2015 to create an easy, accessible, and streamlined process for small and mid-size businesses to fund their growth. With roots in both entrepreneurship and institutional lending, CapitalFront brings a comprehensive range of lending options to independent business owners underserved by the commercial lending market. CapitalFront is headquartered in Conshohocken, PA, and serves clients nationwide. More information is available at http://www.capitalfront.com.
About Lenders One® Cooperative
Lenders One (LendersOne.com) was established in 2000 as a national alliance of independent mortgage bankers, correspondent lenders and suppliers of mortgage products and services. Members of the platform originated $247 billion in mortgages in 2015, collectively ranking as one of the largest retail mortgage origination entities in the U.S. Lenders One is managed by a subsidiary of Altisource Portfolio Solutions, S.A.
About Altisource ® 
Altisource Portfolio Solutions S.A. (NASDAQ: ASPS) is a premier marketplace and transaction solutions provider for the real estate, mortgage and consumer debt industries. Altisource's proprietary business processes, vendor and electronic payment management software and behavioral science-based analytics improve outcomes for marketplace participants. Additional information is available at altisource.com.