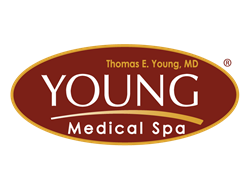 LEHIGH VALLEY, PA (PRWEB) September 13, 2016
Paula Di Marco Young, BS, RN, CLO/A of Young Medical Spa® was the recipient of the prestigious "Best Aesthetic Nurse" Award at the 2016 THE Aesthetic Awards™ at THE Aesthetic Show™ in Las Vegas, NV and has recently launched her own cosmetic and aesthetic podcast.
"It's a Young Thing", Young Medical Spa's new cosmetic and aesthetics podcast hosted by Nurse Paula Young, focuses around a single skincare, body contouring, or anti-aging treatment option that Paula will discuss at length, spelling out the details and common misconceptions people have. Nurse Paula states, "We have performed so many complimentary consultations over the past eleven years we have been in practice that I have discovered there are many common misconceptions about various products, treatments and procedures we perform." Paula continues to say that "Through my podcast, I can explain important facts and concepts people need to know when considering an aesthetic procedure in a language they can understand". Some topics include cosmetic injectable products, cellulite reduction, microneedling, sunspots, and CoolSculpting®, with a new episode being released every week.
Paula goes into great detail on each topic, discussing how the treatment works and the recovery time involved, as well as debunking common misconceptions. Paula also guides the audience on what to look for and what questions to ask when considering a treatment. Her no-nonsense approach to informing her patients and straight forward, easy to understand language makes "It's a Young Thing" the perfect podcast for anyone thinking about receiving a treatment.
With two locations in Center Valley and Lansdale, Pennsylvania Young Medical Spa aims to ensure that their patients in the Allentown, Bethlehem, Lansdale and Philadelphia areas are well-informed and up-to-date on all the skin rejuvenation and body contouring treatments and opportunities available to them.
"It's a Young Thing" is available on iTunes and SoundCloud, as well as through Young Medical Spa's website at YoungMedicalSpa.com/Podcast. Nurse Paula Young and the rest of the Young Medical Spa staff are proud to be able to share their expertise with so many patients through their podcast.
About Young Medical Spa in Pennsylvania
Dr. Thomas E. Young and Paula Di Marco Young, BS, RN, CLO/A founded Young Medical Spa® with the mission to provide the highest quality aesthetic treatments and services within the comfort of a relaxing, spa-like environment. At Young Medical Spa® in Pennsylvania, all patients are treated under the supervision of medical aesthetic experts to ensure that results match the team's passion for aesthetic medicine.
Dr. Young is a leader within the medical aesthetic industry, and shares his expertise by training other physicians with his advanced techniques and wealth of experience. At Young Medical Spa®, Dr. Young works diligently to ensure that each patient is able to achieve their desired results within a state-of-the-art location and in the company of a friendly and welcoming staff.
Young Medical Spa® has two locations serving the Lehigh Valley and greater Philadelphia areas. Their Center Valley medical spa is convenient to Allentown, Bethlehem, and Easton. The Lansdale medical spa is located in Montgomery County outside of Philadelphia, serving King of Prussia and Lower Bucks County. Every patient is given the time and attention necessary to develop a unique treatment plan and foster a valuable relationship with the staff. Young Medical Spa® is dedicated to patient care and comfort, maximizing results while ensuring the utmost safety.
Young Medical Spa® is conveniently located at 4025 West Hopewell Road in Center Valley, PA, and at 635 North Broad Street, Lansdale, PA.
About Paula Di Marco Young, BS, RN, CLO/A
Paula is a Registered Nurse, Certified Laser Operator/Aesthetics, and the Director of Public Relations and Marketing for Young Medical Spa®. She is also Faculty with THE Aesthetic Show™ in Las Vegas, NV, a multidisciplinary medical education conference focused on the rapidly expanding field of aesthetic medicine. Paula received an international award of "Best Aesthetic Nurse" in the 2016 THE Aesthetic Awards™ at THE Aesthetic Show™.
You can listen to Paula on her podcast, "It's a Young Thing", available on iTunes and SoundCloud where she discusses the most common questions from patients on aesthetic medicine and procedures, misconceptions, and new technological advancements in a language the patients can understand.
Paula holds a current license with the PA Cosmetology Board and previously owned Dr. TattAway® Laser Tattoo & Hair Removal Clinic, a Merle Norman Cosmetics national franchise, a full-service beauty salon, and a chain of tanning salons. Her previous career was with Johnson & Johnson medical device and biotechnology divisions where she held senior management positions in the Medical and Sales Education and Customer Relationship Management (CRM) departments.
Paula is on the Board of Directors of the Medical Spa Society, and is a member of the American Society for Laser Medicine & Surgery, Dermatology Nurses Association, American Academy of Medical Esthetic Professionals, Association of PeriOperative Registered Nurses, American Nurses Association, and The Aesthetic Practice Association.
Paula has been interviewed by The Wall Street Journal and MedEsthetics Magazine. She was interviewed on Huffington Post Live, authored for Medical Spa Report Magazine, authored textbooks on advanced aesthetic practices used by beauty academies, and is a reviewer of aesthetic-related curriculums for Milady Publishing. She is on the Advisory Boards for Lincoln Technical Institute, and Acara Medical Spa Consultants, and is an editorial blogger for MedicalSpaMD.