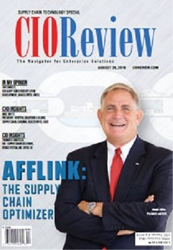 Apptricity Is A Top 20 Supply Chain Execution Specialist
Dallas, TX (PRWEB) September 08, 2016
Apptricity's JetStream is a revolutionary platform that enhances legacy enterprise applications and extends the value of information technology investments. Apptricity applications mobilize any enterprise with unprecedented levels of real-time business intelligence so that the management has visibility into every action and transaction within the enterprise and among its partners, customers and suppliers.
"We are proud that CIOReview recognized Apptricity as a Top 20 Supply Chain Tech Solution Provider," said Tim Garcia, Apptricity President and CEO. "Our Supply Chain Execution is an advanced mobile solution that automates supply chain operations, enabling you to select targeted solutions for your company to succeed."
Apptricity was named as one of the 20 Most Promising Supply Chain Tech Solution Providers due to an impressive track record of successful deployments of financial and supply chain solutions for enterprise, commercial and government clients.
A distinguished panel comprised of CEOs, CIOs, IT VPs, including CIOReview editorial board, finalized the "20 Most Promising Supply Chain Tech Solution Providers 2016" in the U.S. and shortlisted the best vendors and consultants. Published from Fremont, California, CIOReview is a print magazine that explores and understands the plethora of ways adopted by firms to execute the smooth functioning of their businesses.
About Apptricity
Apptricity® Corporation is a leading global provider of Internet of Things (IoT) M2M mobile enterprise solutions for supply chain management (SCM) and spend management. The company was founded in 1999 with its headquarters located in Irving, Texas. It provides a platform that enables organizations to address the universal objectives of business, government and the military with accelerated business processes and command visibility. For more info, visit: https://www.apptricity.com/
###
Apptricity is a registered trademark of Apptricity® Corporation. All other trademarks, registered trademarks and service marks are the property of their respective owners.