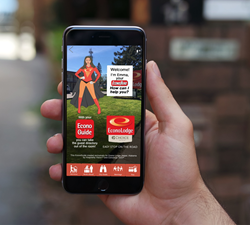 "The EconoGuide brings the Guest Directory to life on mobile devices and brings room service into each room."
(PRWEB) October 11, 2016
ELFA, the EconoLodge Franchise Association and HospitalityVision have launched a branded mobile guest services directory to promote each individual Econo Lodge, now available to all franchise owners. The new EconoGuide is the only personalized virtual concierge hotel phone app in the entire country that places the entire Guest Services Directory on the mobile device, targeting today's millennial traveler and mobile market. It helps hotels meet franchise guidelines when combined with a mandatory hotel welcome card. The EconoGuide helps Hoteliers save valuable staff restocking time, binder replacement fees, and eliminates needless paper and torn, defaced directories. This EconoGuide mobile Guest Directory is available to hoteliers at no cost with sponsorships.
To celebrate the launch, guests who download the EconoGuide can now enter to win a $100 gas card through December by emailing in their travel tips, available on the EconoGuide app. Seventy-two percent of travelers are going by car this year so road trips "are in" according to an annual travel survey by Choice Hotels International.
Downloading one, national EconoGuide gives guests access to their very own EconoHero, Ed or Emma who welcome guests personally with a message customized for each property. Guests use the EconoGuide to get required information about amenities and order room service. Additionally, guests can request a wake-up call or a forgotten personal item, check the channel guide and see a dynamic hotel floor plan, call a taxi, book a spa, get national and local news, locate local restaurants and shops, make dinner reservations, connect on TripAdvisor, buy tickets to attractions, book their next stay without an OTA, play a free game, and even share a free virtual Postcard ToGo via email or on Twitter, Facebook and Instagram.
According to HotelManagement.net, Millennials in every country are already using their mobile devices to varying degrees to conduct core functions with hotels. Besides mobile check-in and mobile booking, room service was the No. 1 request when millennials were asked how else technology could improve their stay. Room Service is a key function of the the EconoGuide.
Guests can even send a message or request directly to the front desk using the EconoGuide, eliminating time-consuming phone calls to front desk staff, ensuring good reviews and good reputation management. All hotel services and functions are on one mobile location, eliminating the need for multiple services/apps/papers. The EconoGuide links to, promotes and complements corporate apps.
As HospitalityVision President Marti Staprans Barlow points out, "The EconoGuide makes the Econo Lodge one of the first hotel properties to allow guests "to take the entire directory out of the room. It is much more friendly than a print piece and provides many more services. We basically bring the Guest Services Directory to life. Plus, this new stylized mobile Guest Directory aligns perfectly with their corporate remodel."
Marti also says, "We appreciate the vision and leadership provided by the EconoLodge Franchise Association to make this win-win EconoGuide available to the economy traveler. With more guests looking for a clean, stylish economy room at an affordable rate, the EconoGuide is another necessary perk."
For corporate franchise hotels, HospitalityVision's EconoGuide give hotels a chance to build a local, personal relationship with their guests through a very customized, cloud based mobile guest directory app — with information that can all be updated immediately on all platforms from anywhere. This is something a print directory cannot do.
The EconoGuide is built using the same platform as Pokemon Go®.
Guests can download the EconoGuide phone app at the App Store or Google Play or by scanning in a QR code or mobile web address. They then enter a hotel code, ring the bell, and Econo Ed or Emma pops up on the screen with a personal, customizable welcome (including holiday greetings or special welcomes to groups and conventions). Guests will never be bombarded with annoying pop up ads with the EconoGuide or be directed to any other OTA.
With more than half of the world's travelers using smart phones and 60+% of these travelers using their smart phones for booking and travel-related searches, the EconoGuide is your best hotel companion. Those numbers will only increase in the future. Mobile app time has now surpassed mobile web time for smartphone users. With the EconoGuide, travelers do not have to search for information and entertainment, it is all right there in one place. 81% of hotel guests say that using their smart phone is more important during their trip than a day at the beach.