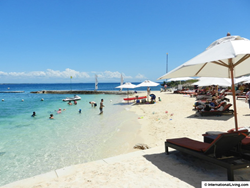 This online, interactive resource pinpoints the world's best communities for low-cost retirement all around the globe.
Baltimore, MD (PRWEB) September 14, 2016
As the cost of living in the U.S. continues to rise and the political and financial outlook feels increasingly uncertain, more and more North Americans are exploring the idea of retiring abroad.
But just as the United States offers a vast array of lifestyle options, cultural traits, budget choices, and landscapes...so, too, does every other country in the world. So when people look to choose a haven overseas, it isn't just a country, or even a region within that country they must pick... but a community.
In the end, it's really the town or city or village where an expat chooses to settle that largely determines that person's quality of life overseas, day-to-day.
International Living's first-ever annual Great-Value Communities Directory is designed to point potential expats to the towns, cities, and villages around the world where they can find the best bang for their buck today.
This online, interactive resource pinpoints the world's best communities for low-cost retirement all around the globe.
Compiled by International Living's team of expat correspondents and editors based around the world, it identifies the communities most worthy of attention right now for anyone looking for a good-value, low-cost life overseas.
Affordability figures prominently in the criteria used to select these great-value retirement destinations. But in addition to the cost of living, other important attributes help make a place comfortable and attractive for day-to-day living, including: rental and property costs; a comfortable climate; good infrastructure; proximity to amenities like beaches, entertainment venues, natural wonders, and more.
The International Living's Great-Value Communities Directory, which covers the world, is divided into global regions, allowing users to compare and contrast communities with the most retirement potential in regions around the world.
It allows users to "dive into" the map to explore specific areas in more detail, including Central America, South America, Europe, and Southeast Asia.
The Directory's interactive maps and the commentary embedded in each community's entry are all compiled by International Living's in-house experts—expats based around the world, living and traveling in the countries represented in the Directory.
"We did not create this Great-Value Communities Directory as a 'scientific' exercise, said Dan Prescher, International Living Senior Editor. Really, it's all about our folks on the ground bringing their good judgment to bear on the various options available to expats today and making well-informed recommendations."
"This resource isn't intended to catalog every town on the planet. After all, a laundry list of every possible option potential expats have is not particularly helpful to somebody trying to find a good-value escape where they can settle comfortably and afford to live a better life."
"What is useful, however, is a 'shortlist' of the best options. And that's what this Directory provides."
International Living's Great-Value Communities Directory with its interactive maps creates a tool for potential expats to use in narrowing down the towns, cities, and villages that might make the most sense for them and comparing and contrasting those best options.
International Living's first annual Great-Value Communities Directory can be found at: The World's Best Towns and Cities for Low-Cost Retirement.
Editor's Note: Members of the media have permission to reproduce the article linked above once credit is given to InternationalLiving.com.
For information about InternationalLiving.com content republishing, source material or to book an interview with one of our experts, contact Associate Editor Carol Barron, 772-678-0287 (US), CBarron@InternationalLiving.com or visit the Media Center.
For 36 years, InternationalLiving.com has been the leading authority for anyone looking for global retirement or relocation opportunities. Through its monthly magazine and related e-letters, extensive website, podcasts, online bookstore, and events held around the world, InternationalLiving.com provides information and services to help its readers live better, travel farther, have more fun, save more money, and find better business opportunities when they expand their world beyond their own shores. InternationalLiving.com has more than 200 correspondents traveling the globe, investigating the best opportunities for travel, retirement, real estate, and investment.