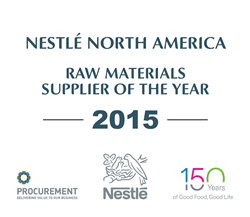 PHILADELPHIA, Pa (PRWEB) September 08, 2016
FMC Corporation's Health and Nutrition business has been named Supplier of the Year by Nestlé's North America Procurement organization in the raw materials category. The award was presented to the supplier that created value through innovation, quality, service and reliability.
This was the first year that Nestlé included a raw material category. FMC was commended for delivering solutions that enabled consistent and innovative products for Nestlé while minimizing costs.
"We are delighted to be recognized by Nestlé in North America for the value of our service," said Eric Norris, president, FMC Health and Nutrition. "At FMC, we place the utmost importance on our customer relationships, going beyond the responsibilities of an ingredient supplier and providing a much higher level of expertise and assistance. We align with our customers' business and work as an extension of their team, helping them find solutions that will ensure their sustained success."
Throughout their collaboration, FMC and Nestlé have shared similar values of safety, quality, sustainability and support of consumer health. FMC and Nestlé maintain the highest level of engagement and openness necessary for a collaborative partnership, enabling the joint development of products that meet consumer needs and minimize development cycles.
The Supplier of the Year award is a part of Nestlé's Supplier Relationship Program, put in place to strengthen and develop relationships between Nestlé and its key suppliers, creating more value for both organizations. To determine a winner, Nestlé evaluated many performance factors with each of its suppliers. The top five performers were then given an opportunity to provide further details on specific examples of innovation, expertise and customer service.
About FMC Health and Nutrition
With many decades of experience in the health and nutrition industry, FMC has a deep understanding of the complexity of product formulation and a proven portfolio of naturally derived ingredients and formulas. With our broad portfolio and superior technical expertise, we work side-by-side with customers in the nutrition, pharmaceutical and nutraceutical markets to deliver customized solutions that meet their unique needs and challenges while upholding the highest standards of safety, purity, efficacy and value.
About FMC
For more than a century, FMC Corporation has served the global agricultural, industrial and consumer markets with innovative solutions, applications and quality products. FMC acquired Cheminova in April 2015. Revenue totaled approximately $3.3 billion in 2015. FMC employs approximately 6,000 people throughout the world and operates its businesses in three segments: FMC Agricultural Solutions, FMC Health and Nutrition and FMC Lithium. For more information, visit http://www.FMC.com.
About Nestlé in the United States
Nestlé in the United States is committed to being a trusted leader in nutrition, health and wellness. Nestlé in the U.S. consists of eight main businesses: Nestlé USA, Nestlé Purina PetCare Company, Nestlé Waters North America, Nestlé Nutrition, Nestlé Professional, Nespresso, Nestlé Skin Health and Nestlé Health Science. Together, these companies operate in more than 120 locations in 47 states and employ over 51,000 people. The United States is Nestlé S.A.'s largest market, with combined product sales in the United States totaling more than $26 billion in 2015.