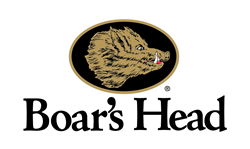 SARASOTA, Fla. (PRWEB) September 12, 2016
Boar's Head Brand®, one of the nation's leading providers of premium delicatessen foods, proudly introduces three new chicken sausage products to its lineup: Boar's Head® Robust Italian Chicken Sausage, Boar's Head Blazing Buffalo™ Chicken Sausage, and Boar's Head Uncured Bacon Chicken Sausage.
These chicken sausages deliver all of the flavor to enhance any entertaining menus, crafted from a blend of flavorful spices and all natural(1) chicken raised without hormones or antibiotics ever.(2) Like all Boar's Head premium meats, cheeses, condiments and hummus, the new Boar's Head chicken sausage products contain no gluten,(3) artificial flavors or added colors, MSG, fillers, byproducts or trans-fat.(4)
"With the introduction of Boar's Head Chicken Sausage, we're continuing our long-standing commitment to providing quality, premium products while satisfying consumer needs," said Elizabeth Ward, Director of Communications for Boar's Head Brand. "Boar's Head enthusiasts will appreciate the delectable choices, which were crafted from chef-inspired recipes. These flavor-filled sausages are a perfect addition to any entertaining experience."
The three new chicken sausage products from Boar's Head offer ideal flavor profiles, perfect for any occasion. To experience all of the exceptional new options and flavors, Boar's Head has a few recipes to try this season:

All of the new chicken sausages from Boar's Head use only the finest ingredients, made with humanely raised chicken (5) fed a vegetarian-grain diet. Offering a hearty source of protein at 15g-16g per serving, these fully-cooked chicken sausages also contain no artificial ingredients, no nitrates or nitrites added.
Boar's Head products are available at select supermarkets, gourmet stores, and fine delicatessens nationwide. For more information about Boar's Head and the new chicken sausage product line, please visit http://www.boarshead.com, like us on Facebook at http://www.facebook.com/boarshead and follow us on Twitter at @Boars_Head and Instagram at @boarsheadofficial.
About Boar's Head
Founded in 1905, Boar's Head Brand has upheld a commitment to unwavering standards for quality for over a century, refusing to take shortcuts that compromise the integrity of its products for the sake of convenience or economy. What started with just a few products has grown to over 500, ranging from premium delicatessen meats, cheeses and condiments to an array of Italian and Old World specialties, hummus and foodservice items. All Boar's Head meats, cheeses, hummus and condiments contain no gluten, artificial flavors or colors, MSG added, fillers or byproducts, or trans-fat.(4)
_______________________________________________
1- No artificial ingredients, minimally processed.
2- Poultry raised without the use of antibiotics, hormones, growth promotants or animal by-products. Federal regulations prohibit the use of Hormones in Poultry.
3- All Boar's Head meats, cheeses, condiments and spreads are gluten free.
4- No trans-fat from partially hydrogenated oils.
5- Boar's Head Brand® defines humanely raised as animals raised with shelter, resting areas, sufficient space and ability to engage in natural behaviors.
MEDIA CONTACTS:
Meredith Bombella
Boar's Head Brand®
Tel: (941) 955-0994
Email: meredith(dot)bombella(at)boarshead(dot)com
Isabel Peña Alfaro
FleishmanHillard on behalf of Boar's Head Brand®
Tel: (212) 453-2431
Email: isabel(dot)penaalfaro(at)fleishman(dot)com